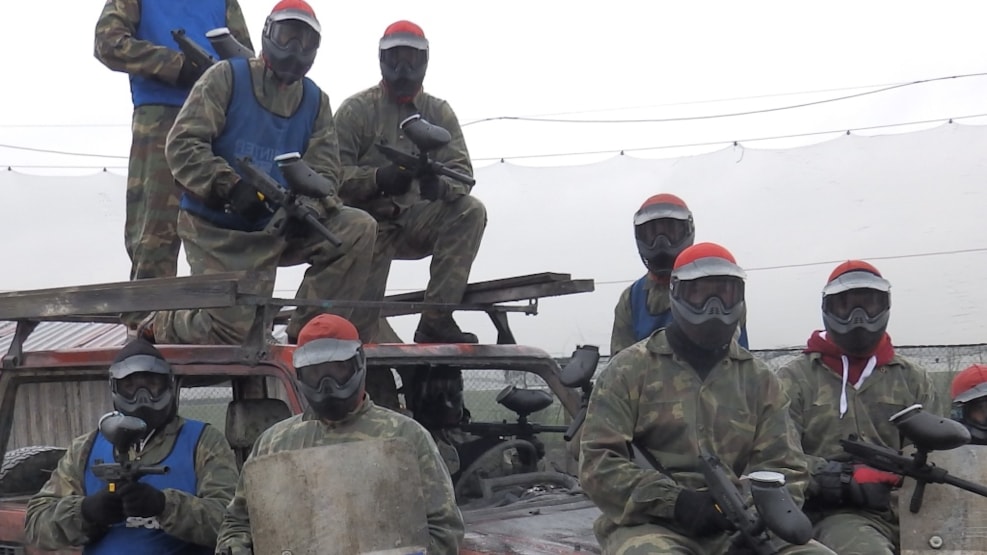 The guy trip – Action, grill and local craft beer
The guy trip – Action, grill and local craft beer
Take the guys (or girls) along for a day filled with manhood, with action, battle to the last, barbecue fun and local beers.
Here you will battle each other till the bitter end with a game of paintball, followed by fun at the grill where you grill your own food procured from the local butcher. In addition to the fine meats, there will be a beer tasting of various local beers from Staarup Haandbryg, where the brewer himself guides the interested through the beers.


Program:
The day starts with 1.5 hours of action-packed paintball, where you fight each other to the finish line.
It is possible to play on 3 different outdoor courts with 3 different themes. On all tracks there are various covers consisting of houses, cars, tires, barrels, etc.
The group is divided into 2 teams that play against each other. All equipment for the game is included in the package and freshly washed equipment is always used for all players.
As an extra opportunity to have a little more fun, there is the opportunity to play in one or more rabbit costumes.
The package includes 150 shots per. person. Extra shots can be purchased according to the individual player's needs during the game, otherwise you can upgrade the purchased package to the 'Wilderness Package', where it incl. 500 shots per. person.
Approx. 45 min for suiting up and instructions before and after the game.
The barbecue package is delivered from a local butcher and consists of 2 sausages, marinated chicken breast, neck chop and potato salad. The paintball center has a gas grill available for guests, which is located outdoors under a half-roof together with a table and bench set.
If you wish, you can choose to take the meat home for cooking later.
The beer tasting consists of various beers from the local Staarup Haandbryg / craft brewery. The different beers are presented by the brewer himself on video. The tasting contains approx. 1 liter of beer per. participant. Here you can also choose to take all or part of the beer tasting home to your accommodation. If desired the link to the presentation video will be sent.
This experience can only be booked on Saturdays, Sundays and public holidays starting between 9am to 1pm.
The experience includes:
1.5 times paintball game, incl. 150 shots per. person and all safety equipment.
Beer tasting package with presentation of the different beers by the brewmaster himself. It's about. 1 liter of beer per. person.
Grill package with 2 sausages, marinated chicken breast, marinated neck chop and potato salad as an accompaniment.
Practical information:
Minimum 6 people for the event.
Maximum 35 people per. group.
The package can only be booked on Saturday, Sunday and public holidays between 9am and 1pm.
Practical shoes is advised. Other equipment is handed out, such as suits and masks etc. Paintball is played outdoors.
The paintball center has a gas grill along with a table and bench set under a half roof, which can be used.
Beer tasting is presented on video, so you decide the pace yourself.
Possibility to take the barbecue and beer package to go if you want to enjoy it at another place, like your home.
Opportunity to purchase other activities. Skive Go-Kart and Paintball offer 10 other activities in the same event center. See www.skivegokart.dk for further info.
Information:
For more information:
Go Tours: The guy trip – Action, grill and local craft beer
Or contact Skive Go-kart and Paintball directly:
Tel .: +45 96 16 71 11
Mail: info@skivegokart.dk 
Web: Skive Go-Kart and Paintball
Get more inspiration here:
Destination Limfjorden © 2023