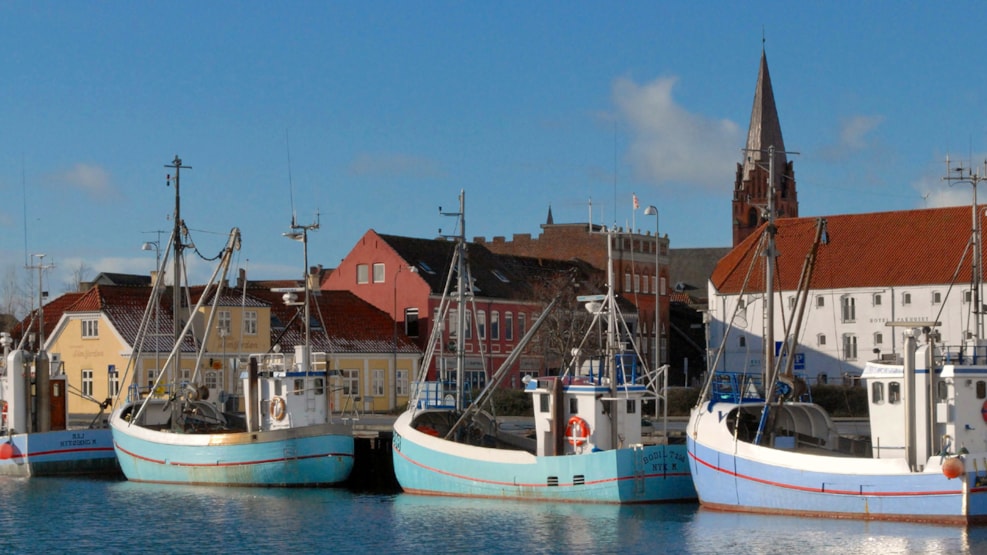 Biking Holiday – Mors and Salling in 3 Days
With Nykøbing Mors, famous for housing Dueholm Monastery and The Foundry Museum, as your starting point, your biking route is southbound towards the picturesque Legind Bjerge which, with good reason, is called the pride of Mors.
It is in the hills of Legind Bjerge, the 1.7 km long Sallingsund Bridge connects the island to the mainland. In 1978, the bridge replaced the two small wooden ferries "Pinen" and "Plagen", which shuttled between Mors and Salling.
Enjoy the magnificent view from the bridge, before the Limfjord's Route takes you through the beautiful landscapes of Harre Vig and Roslev, where you will spend the night.
Salling Natursti (Salling Nature Trail) is built upon the former railroad tracks. On the way, you will pass by Grynderup lake with its birdwatch tower and rope ferry as well as Glyngøre Culture Station, in the north western part of Salling, before you cross the Sallingsund bridge as you return to Nykøbing Mors, where you will find your last overnight accommodation.
Nykøbing Mors is decorated generously with sculptures, many of which crafted by Erik Heide. The town has a thriving centre and a pedestrian street, which beautifully connects with the harbor.
Nykøbing Mors is also known as the Danish Shellfish Capital. It houses the Danish Shellfish Center, which is a research, communications, and experimental center.
Lovely days at the Limfjord awaits you!

INFORMATION:
2 nights at Youth Hostel, breakfast, lunch packet, map material, tour description, and brochures.
Daily stages from 25-35 km
PRICES:
3 days/2 nights € 190,- per person in double room. Children under 12 yrs. old accompanied by 2 adults € 102,- per person.
EXTRA:
Single room € 106,-
Luggage transport for min. 2 persons € 55,- per person.
Extra night € 68,-

TOUR NO. 515
Get more inspiration here:
Destination Limfjorden © 2023