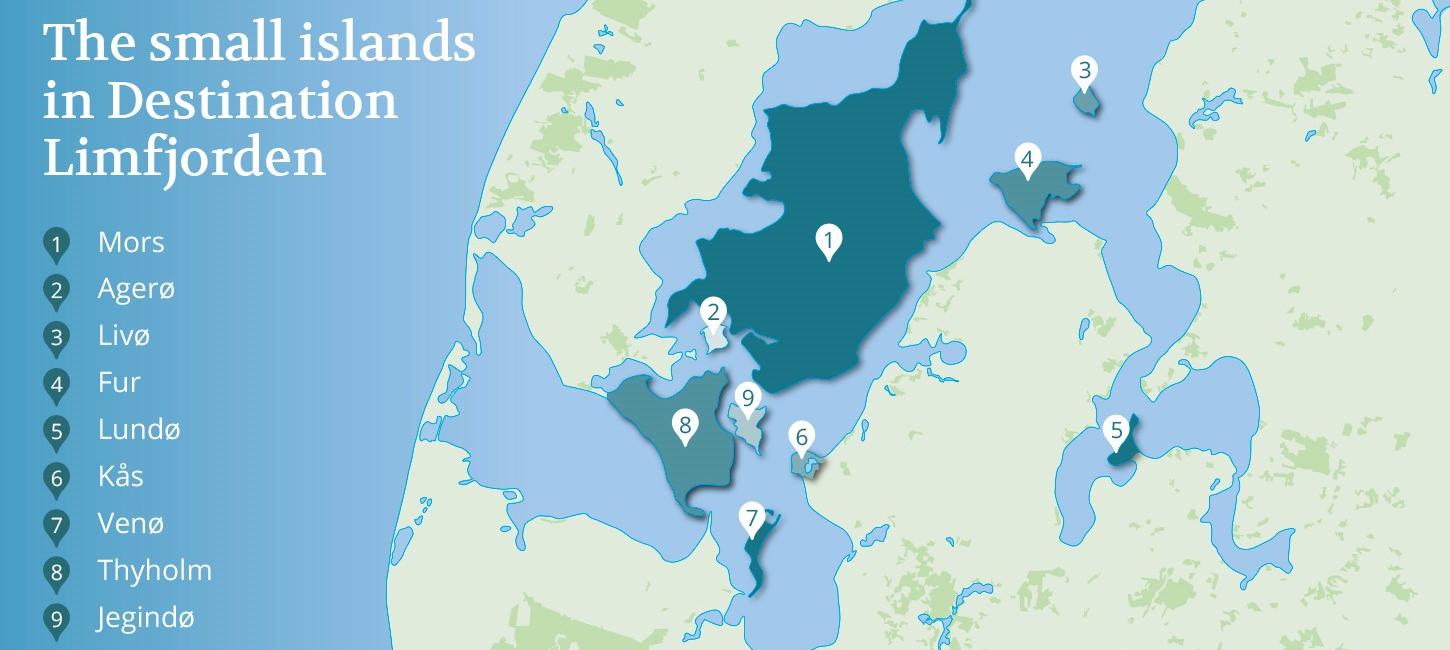 Islands in Destination Limfjorden
Photo:
Destination Limfjorden
The small islands in our Limfjord's area are all unique and give you a feeling of being far away from the stressful, everyday life. Each island and peninsula have its own culture and DNA and you will quickly feel like you are a part of the island-culture.
Destination Limfjorden is full of both islands and peninsulas. It is a fantastic island area with many bays, slops, and impressive views.  
16 harbours, five ferry crossing, and five bridges will take you from one island or peninsula to another – from one experience to another.  
As a guest on these islands, it is almost impossible not to slow down and feel the authentic island atmosphere. Each island has its own history, and its population will welcome you with open arms.
Breath in, breath out. You holiday in Destination Limfjorden awaits you.   
The islands and peninsulas in Destination Limfjorden
"To travel is to live" - H.C. Andersen
Each island and peninsula have different experiences – some has many local galleries, some has small attractions, and some are known for their local restaurants and breweries. But one thing they all have in common is the beautiful nature, surrounded by our beautiful Limfjord.
Below you will find a small selection of the things you can experience on each island and peninsula.
Try also one of the boat trips, where you sail to a selection of islands and learn about the nature and the islands along the way. You can for instance try "Island hopping to the island Livø", where you for instance will see seals. You can also try a boat trip with a guide around the island Fur and you can sail with Denmark's smallest ferry, Venøsund, from the island Venø.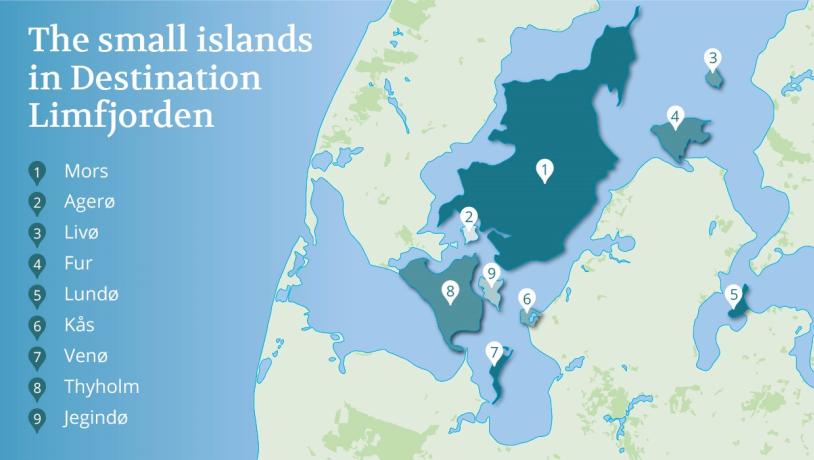 Photo:Destination Limfjorden
Fur - a wonderful island
The island Fur is among the most famous islands in our destination and is often visited by both Danes and foreigners. Experience spectacular nature, art, galleries, fossil hunting and local world class beer.
Here you will find a small selection of experiences on Fur. If you want to know more, click on the following link: Fur - a wonderful island.   
Venø - the heart of the Limfjord
Venø can brag about having Denmark's smallest in many ways – Denmark' smallest church, Denmark' smallest car ferry, Denmark' smallest gallery and Denmark' smallest ferry crossing. 
Here you will find a small selection of experiences on Venø.
 
Mors - Limfjordens største ø
Mors is the biggest island in the Limfjord, where you can experience both city life in Nykøbing and the unique nature along the coast.
Mors has many things to experience, and we have found a few here. For more experiences, please click here: VisitMors 
 
Agerø - a homeplace for birds
Beautiful Agerø is a homeplace for a bird sanctuary and is world known for its population of resting light-bellied tuberous geese.
This island is only 3,7 km2 and here lives around 40 people. 
 
Livø - the pearl of the Limfjord
If you are not into big cities, big shopping streets and spending your time in long queues to visit an attraction - but on the other hand wants to enjoy nature without any noise and smoke from the cars - then pack your bags and go to Livø.
See a selection of experiences here and if you want to know more, click here: Livø - the pearl of the Limfjord
Jegindø - a peninsula close to Thyholm
Jegindø is one of the peninsulas in the Limfjorden and this island gives you a feeling of being on an island, far away from the stressful everyday life. 
Lundø - child friendly beaches
Lundø is also one of the peninsulas in the Limfjord. Take a walk to the tap, where you might see seals. Lundø is also known for its child friendly beaches on the west side, where the water gets deeper very slowly.
Thyholm - a peninsula between Thy and Struer
No matter where you are at the peninsula Thyholm, you always have a beautiful nature around you. You can walk to Plethøj Forest or relax and swim at Søndbjerg Beach. If you want to visit Thyholm by boat, there is tree harbours on this peninsula.
Kås - a protected peninsula
The peninsula Kås is protected and here are 18 burial mound and one of Denmark's few, original nature forests.
Together with Kås Lake, this area is very valuable for plants and animals.