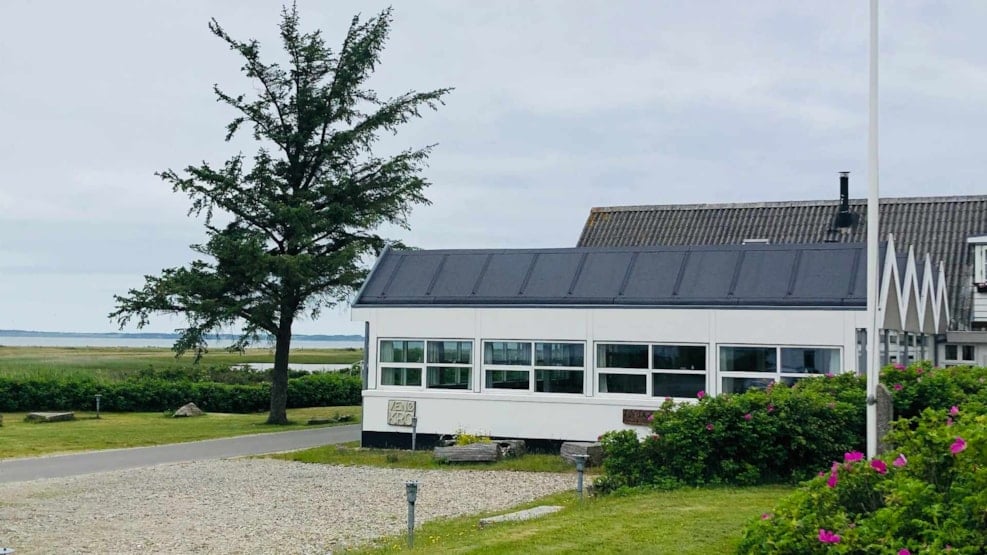 Venø Kro - Struer
In the west of Venø, in areas of natural beauty - close to the Limfjord and only 5 km north of the ferry landing and 200 m north of the harbour lies Venø Kro (Inn). Venø is rich in nature, wildlife, and is home to Denmark's smallest church.
Both the sunset and the Limfjord can be viewed from the rooms in the inn and the patio will be open in good weather. 
Venø Kro is known for "Venøbøffer" (Venø steaks) and "Rulleål" (rolled eel). As well as shellfish from the local waters, and beef from cattle who grassed the north tip of Venø.
In the recent years Venø have been cooperating with Venø seafood, ensuring the menu will always have freshly caught shellfish and live lobster in our tank in the restaurant.
In our specialties you will find our amazing shellfish platter with oysters, lobster, mussels, and crab claws, all directly from Limfjorden.

We recommend making reservations.

Opening hours for Venø Kro
Venø Kro is open during the spring and summer time with varying hours depending on the season.
During the winter season Venø Kro is open to reservations for parties. Please contact Venø Kro for more information.

April
Tuesday - Saturday, from 17:30 to 21.00
June-August
Tuesday - Sunday, from 11:30 to 14:00 and again from 17:30 to 21.00
September
Tuesday - Friday, from 11:30 to 14:00 and again from 17:30 to 21.00
Sunday, from 11:30 to 14:00
October-March
Open to reservations for parties.
Special opening hours may occur from public holidays.

Timetable for the ferry to Venø:
Weekdays, excluding Saturday:
05.30 06.00 06.30 07.00, after which every 20 minutes until 18.00.
From 18.00 until the last departure at 24.00, every 30 minutes.
Saturday, Sundays, and public holidays, 24/12 and 31/12:
06.00, then every 30 minutes until 24.00