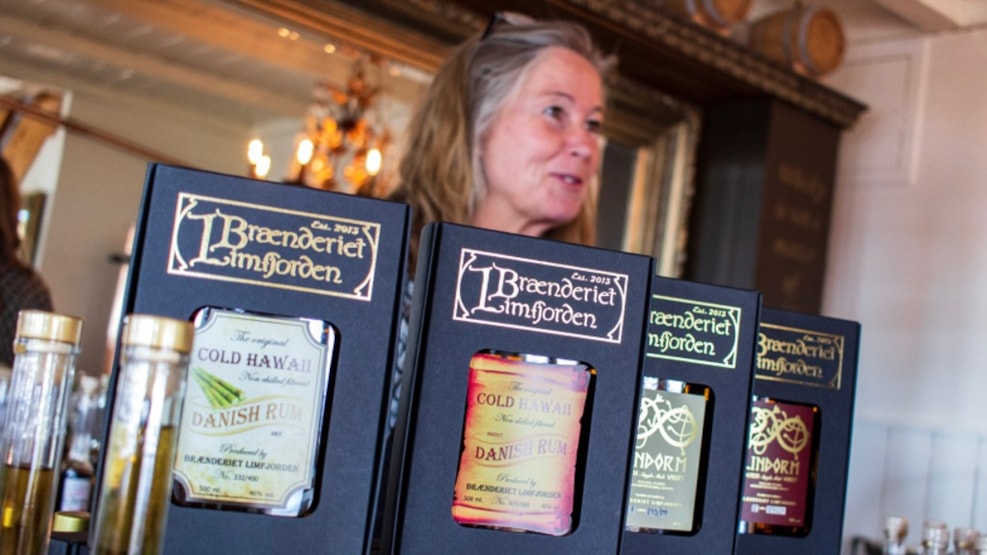 Brænderiet Limfjorden - distillery
Brænderiet Limfjorden is a distillery, restaurant and cabin rental in Sundsøre. Enjoy the beer, whiskey, rum, gin, snaps and liqueur at the bar or on the terrace. Guided tours by appointment year-round.
Brænderiet Limfjorden "Distillery Limfjorden"
With a unique location directly at Sundsøre Ferry Harbor and beach, you will find Brænderiet Limfjorden. Many different types of alcohol are produced here, which acquires a unique character due to aging next to the fresh waters of the Limfjord. Additionally to whiskey, various types of liqueur, barrel-aged beer schnapps, spiced schnapps, gin, barrel-aged rum and brandy are produced.
At given times, you can go on a tour and hear the story of the distillery from over the last 3.000 years and as well, see the production and aging rooms. The tour is ended by  tastings of Brænderiet Limfjorden's many diverse products. Tours are organized all year round for larger groups.
In summer season from week 27 to week 32, the restaurant is open every day, where the plate of the day is served with different taste experiences. The Limfjorden distillery has its own brewery and you can enjoy hand-made and freshly brewed beer with your meal in the restaurant or outside on the terrace with a view of the Limfjord.
For more information:
For more information about opening hours, booking etc.: Brænderiet Limfjorden