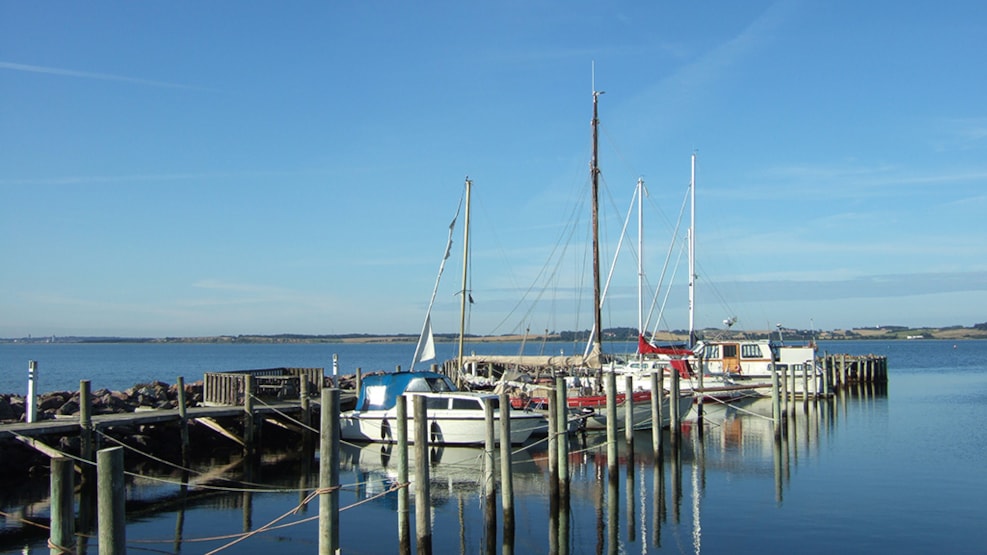 Venø
Venø – the heart of the Limfjord – has a both unique nature and cultural experiences. Take your time to study this unique nature and the everyday life of the people living on this small island, with is one of the 27 islands in Denmark.
Venø - the heart of the Limfjord
5 km north of Struer and 256 meters from the mainland lies Venø – the heart of the Limfjord. It was given this name, as the northern part of Venø is shaped like a heart when seen from the air.
It only takes 2½ minutes to sail to Venø with the ferry and this island will impress you with nature, cultural experiences, and its friendly islander.
Venø is a result from the ice ages' glaciers and the stone ages' burns. This is also the reason why Venø is part of the Unesco Geopark Vestjylland.

In spite of its size Venø offers a beautiful and very diverse scenery. Green fields and brown moors, steep slopes and lovely forest areas.
To the north is the bay area of Nørskov Vig with a rich and diverse bird life. This reservation is closed for public access from April 1st to July 15th.
In addition to many songbirds, waders, and gulls there are lots of pheasants and hares. Venø also has a considerable population of deer.
Hiking on Venø
Venø is a perfect place to hike. Try for instance the hike "Around Venø", which is a 20 km hiking route in a beautiful landscape on the island Venø, in the middle of the Limfjord. You can take the whole try, or just parts of it. You can read more about this specific hike here: Hiking 'Around Venø'

Venø Inn
In the west of Venø, in areas of natural beauty - close to the Limfjord and only 5 km north of the ferry landing and 200 m north of the harbour lies Venø Kro (Inn). Venø is rich in nature, wildlife, and is home to Denmark's smallest church.
Venø Kro is known for "Venøbøffer" (Venø steaks) and "Rulleål" (rolled eel). As well as shellfish from the local waters, and beef from cattle who grassed the north tip of Venø.
In the recent years Venø have been cooperating with Venø seafood, ensuring the menu will always have freshly caught shellfish and live lobster in our tank in the restaurant.
In our specialties you will find our amazing shellfish platter with oysters, lobster, mussels, and crab claws, all directly from Limfjorden.
For more information
You can read about Venø on thier homepage: https://www.venoe.dk/turist-paa-venoe/welcome-to-venoe/