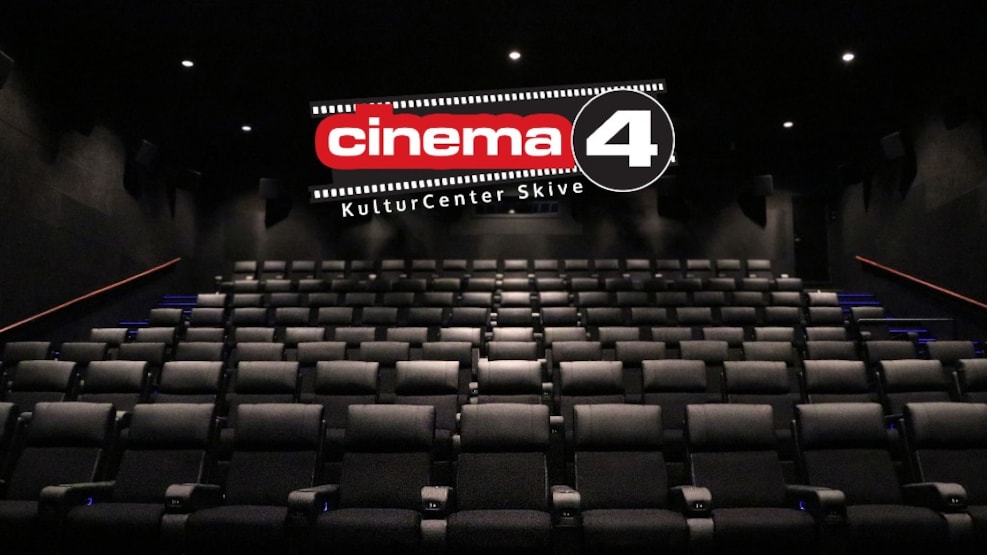 Cinema4 - Skive
Cinema4 - a cinema in Skive
In Cinema4, quality and comfort are prioritized over quantity.
This is why all four auditoriums have luxury chairs with motorized neck- and footrests, which create the most comfortable experience of watching movies in the dark.
In Cinema4 you will be watching films with the best cinema sound. With more than 45 speakers in each room, Dolby Atmos makes it possible for the director to place the sound with great accuracy in the room, giving the audience a completely unique film experience.
The three auditoriums contain following:
Auditorium 1: 138 seats with Dolby Atmos sound and laser projector.


Auditorium 2: 80 seats with Dolby Atmos sound.


Auditorium 3: 84 seats with Dolby Atmos sound.


Auditorium 4: 64 seats in ArtCimema, which offers a cinema experience that embraces cultural diversity and will show films that are both eye-opening and entertaining.
A good film, of course, is enjoyed best with something good for the palate. In the cinema's kiosk, you can buy everything that belongs to a real cinema tour, such as popcorn, sweets, soft drinks, coffee and tea.
You can also make your visit an all-night experience. Get rid of cooking and washing up, and take advantage of the Cinema4 and KCS Cafe & Restaurant 'Food & Film' offer. You can book a table in the restaurant and enjoy a delicious meal before the film with great savings. KCS Cafe & Restaurant is open every day from 11:30-20:00.
Kulturcenter Skive
Cinema4 is part of Skive's Cultural Center, which annually provides framework for many great experiences for the whole family. Here you can experience everything from concerts, stand-ups, lectures, theater and much more with artists from both Denmark and abroad in the large concert hall.
It is also possible to visit the center's large subtropical water park or modernized gym. Therefore, there are many reasons to pay Cinema4 a visit, and perhaps combine it with an experience in one of the center's many other opportunities.
Information
For contact, opening hours or more information on Cinema4: Cinema4
Get more inspiration here:
Destination Limfjorden © 2023