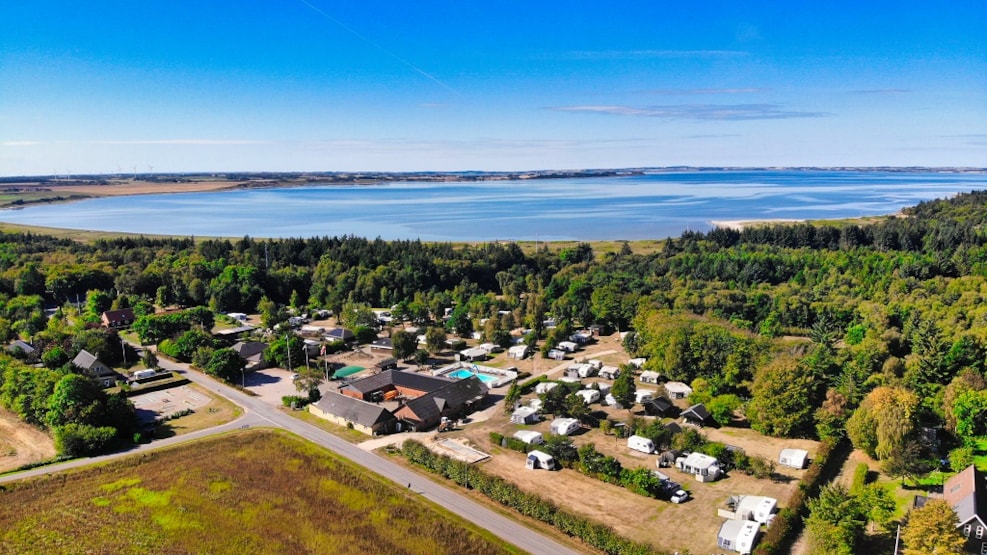 Dragstrup Camping
Dragstrup Camping is located on the western part of the island Mors, surrounded by the beautiful Limfjord and its stunning nature.
With Dragstrup Vig in the backyard, there is plenty of opportunity for water activity such as canoeing, kayaking, SUP paddling and kite surfing whether you are at beginners' level or simply not too excited about the crashing waves of the North Sea. Also, at the campsite there is a put-and-take lake, which can be used by the campers.
If you would like to experience the cozy camping atmosphere, without owning a caravan, there is the possibility to rent a small cabin. In the different cabins there is room for anything between 1 to 7 people. Two places on the campsite holds a 'common cabin' with gender-segregated toilets, a communal kitchen and family bathroom.
For children and playful souls there is a nature playground and a swimming pool with saltwater instead of chlorine, so it is possible to play by the pool all day without getting red, annoyed eyes. In the common area, next to the TV room, there are also other activities such as board games, air hockey, PlayStation and Hama beads.
If you are looking for nature activities, Dragstrup Camping is perfectly located near the molar cliff, Hanklit, and the viewpoint Salgerhøj as well as various hiking and cycling routes. Prices and further information about Dragstrup Camping can be found on their website.
In the period between October 1st  – April 1st, accommodation can only be made upon prior request.  
Get more inspiration here:
Destination Limfjorden © 2023