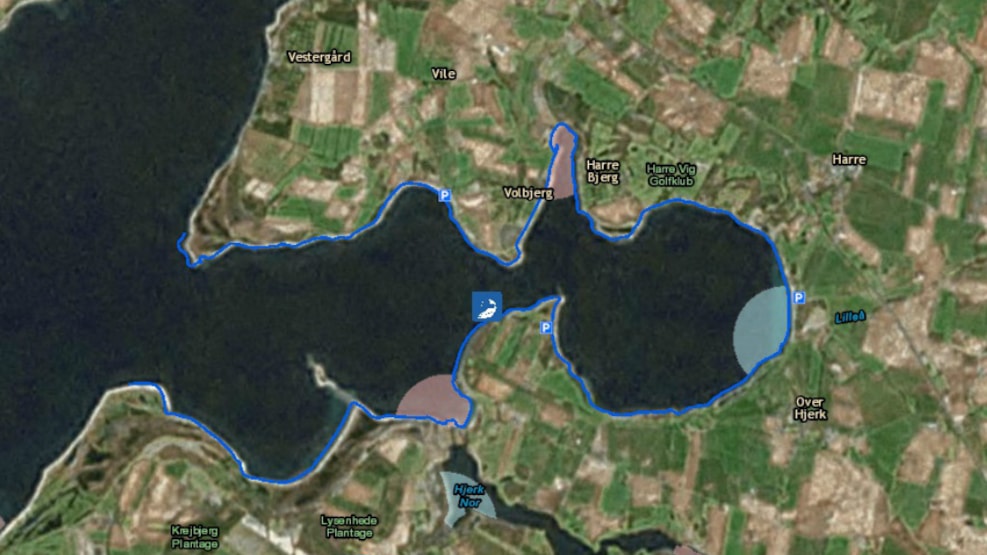 Fishing ground | Lysen Bredning og Harrevig
The ground is favourable for winter fishing, but it can be good all year. Lysen Bredning and Harrevig are separated by two spits stretching towards each other. There is only 300 meters between Sesterodde from north to Hjerk Odde from south.   
The ground is great for fishing during winter because fresh water flows into this part of the fjord. Langeodde, Sesterodde, and Hjerk Odde are well-known spots due to the reefs and deep water, but there are chances of catching fish along the entire ground.
The sea bed varies with reefs and rocks, eelgrass and seaweed. When the water level is low or normal you can wade to the peninsula Hjortholm from the north side of Lysen Bredning. The ground is not normally exposed to wind, but can occasionally be exposed to wind coming directly from west. During summer there is often mullets in Harrevig.    
In Lysen Bredning and Harrevig you can gather mussels and oysters for dinner, and instruments from the Stone Age. Be aware of conservations both all year and half of the year.
You can park at the south side of the point at a public parking area by Rævehøjvej 2a. At the north side you can park at a public parking area by Følvigvej between number 18 and 20. Finally, you can park at the bottom of Harrevig at a public parking area Skibstedvej 2, where you can find other facilities too.
Get more inspiration here:
Destination Limfjorden © 2023