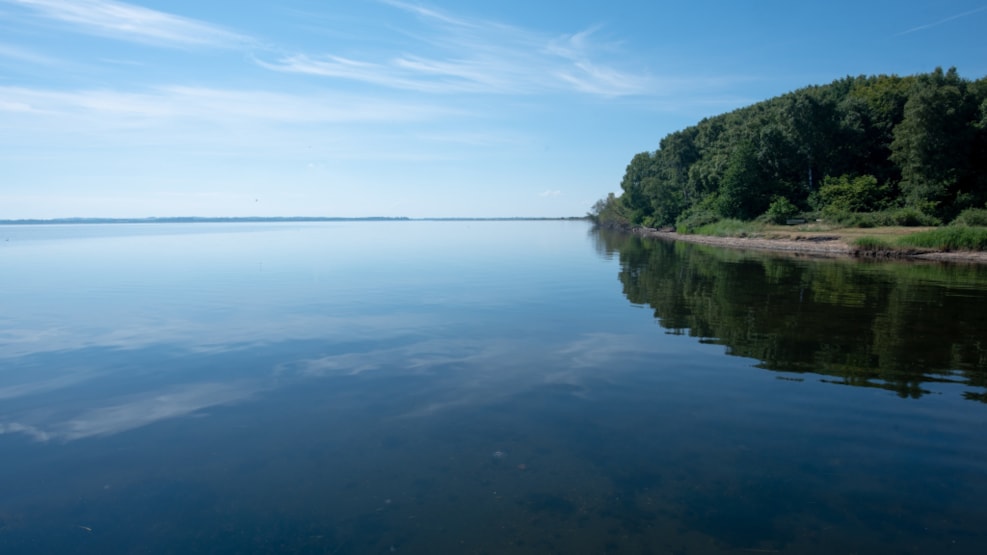 Grønning Øre
Grønningvej continues as a gravel road on the other side of Øster Grønningvej, and after around 1 kilometre, you come to a holiday cottage area. Here, you can take the first small road after the car park to the right, where there is a mixed coppice of mainly oak, pine, rowan and juniper. The trail leads through the coppice and out to the beach.

The "ear" (øre) itself is a scenic beach meadow, in the middle of which the coppice continues with predominantly pine trees and scattered vegetation on the floor, i.e. bear grass, common tormentil, star flowers and, in some places, woodland strawberries. Several areas are inaccessible due to the brambles.
The beach is sandy with rose hip plants growing. If you come here in the warm part of the year, the beach is very inviting, but if you wish to swim, you should be aware that it gets very deep very quickly on the north side and at the tip of Grønning Øre, where the current can also be very strong.
Grønning Øre is home to some fascinating birds. Among the breeding birds are the red-backed shrike and the red-breasted merganser, which can be seen here most of the year. In the autumn, you might encounter the Icelandic sandpiper, and in the winter, large flocks of goldeneyes rest here.
Get more inspiration here:
Destination Limfjorden © 2023