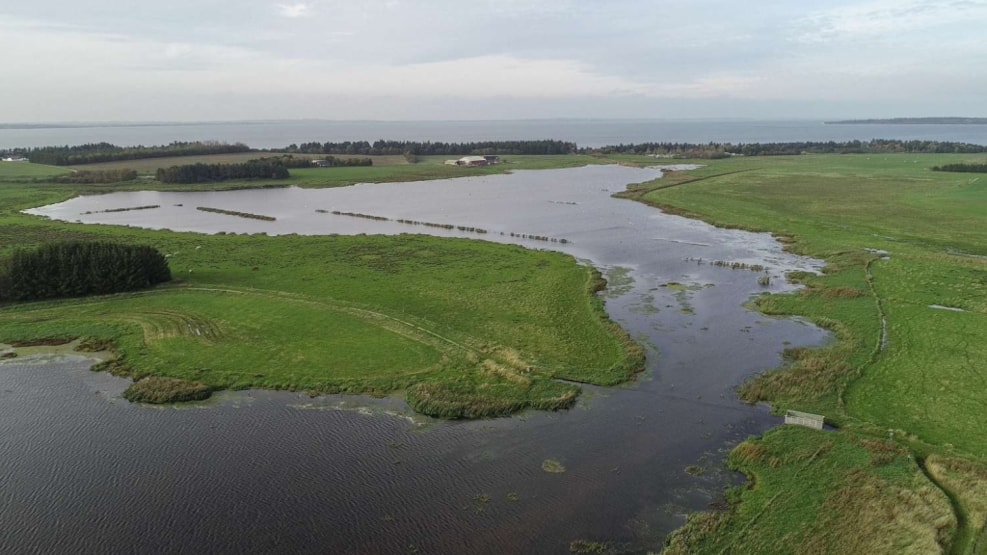 Grynderup Sø - 14,8 km
Experience a rich bird life by Grynderup Lake.
Trip around Grynderup Lake.
Experience a rich bird life by Grynderup Lake.

The original Grynderup Lake was drained in the middle of the 19th century and the recovered areas were subsequently used for farming.
Today, the lake has been restored and consists of 140 ha, while the total area with meadows is 423 ha.
Grynderup Lake attracts many birds, including many ducks, geese and swans.
Guests have access to the nature area along a footpath that goes around the entire lake.
Farthest to the south is a double bird tower with fantastic views of the shallow areas in the southern part of the lake. Access to the tower is from the nature trail that runs on the old railway between Durup and Glyngøre.
At the northern end, a low shed has been built near Grynderupvej with a view of the northernmost part of the lake.
From the nearby car park, a handicap-friendly path goes east to the narrowest point of the lake. Here a tow ferry can be taken to the opposite bank where the trail continues.
It is thus possible to shorten the footpath and only choose to go the northern round trip, which can be done in one hour.
At the handicap path there are tables / benches and a primitive accommodation.

NOTE: Part of this route may be very wet during periods of wet weather. Waterproof footwear is recommended here.
You cross folds with grazing animals on this trip. Show consideration and keep your distance from the animals.
P: Grynderupvej (N 56° 47.587', E 8° 56.944')
L: Total 14,8 km - Can be divided into two shorter walks of 4.8 or 12.5 km
Marking: Yellow
Get more inspiration here:
Destination Limfjorden © 2023