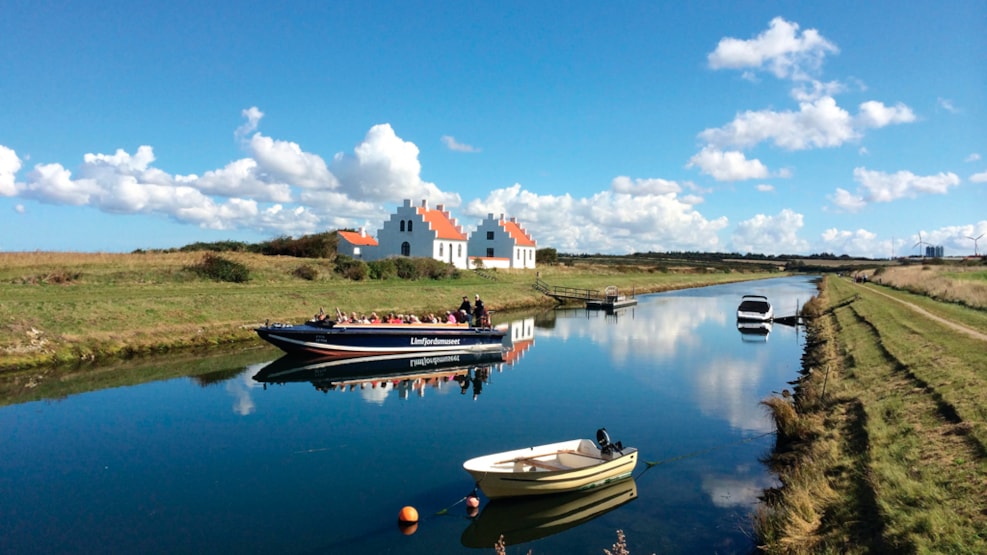 Guided boat tours on Frederik the VII's Canal
Experience Frederik VII's Canal from the waterside and learn more about the historical canal.
In July and August, there is an opportunity to go out and sail with the Limfjord Museum's tour boat, Grevinde Danner, where a local guide tells the fascinating story of the canal's creation.
Boat trips on Frederik VII's Canal can be experienced in:
Week 26-31: Monday to Friday with departures at 11 AM and 2 PM
Week 32-33: Monday to Friday with departures at 2 PM
During the trip, there is a stop at the canal keeper's houses in Lendrup, where you can disembark and visit the beautiful cultural environment and the exhibition in the canal keeper's house. Perhaps Løgstør's most spectacular attraction is 4.4 km long, 3 meters deep, and was named one of North Jutland's seven wonders in 2007.
The Great Belt Bridge of yesteryear
The Limfjord Museum houses no ordinary museum piece. Frederik VII's Canal, stretching from Løgstør to Lendrup, was the contemporary answer to the Great Belt Bridge and an impressive piece of engineering. The canal was hand-dug from 1856 to 1861 by more than 400 German workers. It was inaugurated by Frederik VII in 1861, and for the first time in Limfjord's history, ships could sail unobstructed past Løgstør Grunde.
A great success
The reason for the canal's creation was the large sandbanks off Løgstør, known as Løgstør Grunde, which had made navigation difficult and dangerous for centuries. The shallow and changeable grounds effectively blocked the Limfjord. When Frederik VII's Canal opened, it was a huge success. In 1898-99, almost 3,000 ships sailed through. Unfortunately, the canal was overtaken by technology. In 1901, a navigable channel was dug through Løgstør Grunde, and ship traffic now bypassed the canal, which closed in 1913.
Unique cultural environment
Today, the protected canal stands as a mighty cultural monument, but it also encompasses a very special natural area consisting of calcareous grasslands and beach meadows. The unique conditions have led to the existence of special species, including orchids, that are not found anywhere else in Denmark. The Limfjord Museum is working on reopening Frederik VII's Canal and restoring the original environment. A reopening of the canal would provide sailing guests with a unique opportunity to sail into a time capsule from 1861 and experience history firsthand.
Experience the canal
Today, Frederik VII's Canal invites you to experience it as intended: from the water.
It is recommended to book a spot on Grevinde Danner by calling 9867 1805. See prices and more at: www.limfjordsmuseet.dk.
Get more inspiration here:
Destination Limfjorden © 2023