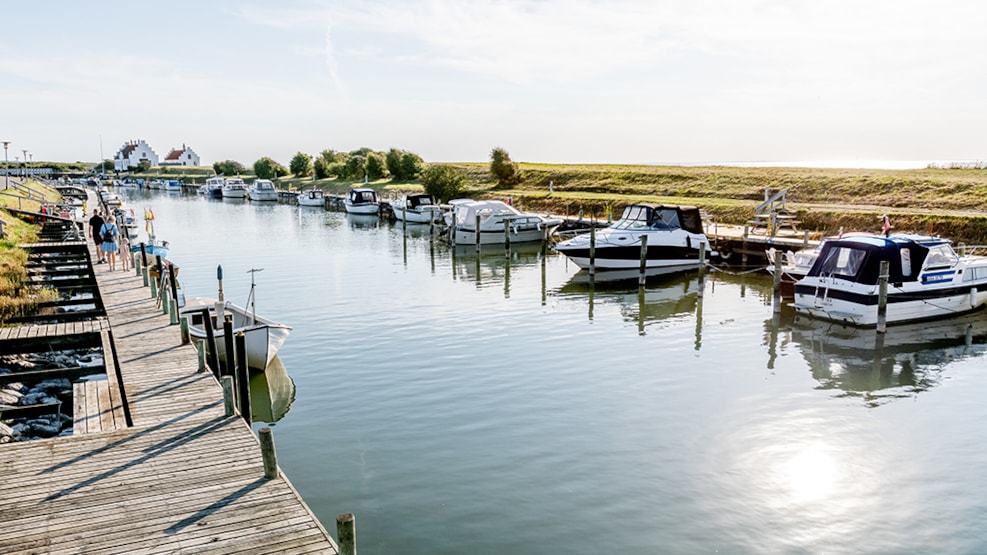 The Limfjord
The resurrection of the Limfjord
The Limfjord can be dated far back, and could be called a fjord from the 12th century and until 1825, until the North Sea broke through at Agger Tange during a strong storm. The Limfjord extends over an area of ​​approx. 180 km from the North Sea in the West and to Kattekat in the East.
The nature around the Limfjord
Destination Himmerland is to the west located towards the Limfjord with a coastline that stretches over 108 km. The nature is very varied. At Løgstør, you can experience a rocky beach, while you can experience lime from the Cretaceous west of Løgstør. Between Løgstør and Lendrup Beach, you can find the inland canal called 'Frederik VII's Canal', which was made in 1856-1861 to facilitate navigation, as the area is very shallow.
If we look further south, you can find a 25 meter high coastal cliff called 'Melbjerg Head' which has been built of material from the last three glacial periods. In addition to this, there can also be found writing chalk from the Cretaceous which in some places can be found close to the surface.
Nature experiences along the Limfjord
The cultural history of the area has left traces both in the landscape and in the literary cultural heritage. This can be seen in relation to preserved areas like the Ertebølle culture. This culture is named after the small village Ertebølle, which is located next to the Limfjord, and which turned up based on the area's rich opportunities for hunting and fishing.
One of the Limfjord's other natural gems is Livø, which is an island located approx. 10 kilometers from Løgstør, and can be reached from a ferry at Rønbjerg Harbor. The island is called the Limfjord's green paradise because of it's beautiful and varied nature. In addition to this, the island has a rich wildlife, which includes deers, fallow deers and seals. The seals lives on the seal sanctuary at the tip of the protected and inaccessible 3-5 km long headland called 'Livø Tap'.
North of Løgstør, you will find the Viking castle 'Aggersborg', which is the first and largest castle builed by the king named 'Harald Bluetooth' in the Viking Age. South of Løgstør is the Cistercian monastery called 'Vitskøl Kloster'. This monastery was build in 1158 by the king 'Valdemar the Great'. Today it is possible to visit the monastery to see the ruin of the church and the herb garden.
Get more inspiration here:
Destination Limfjorden © 2023