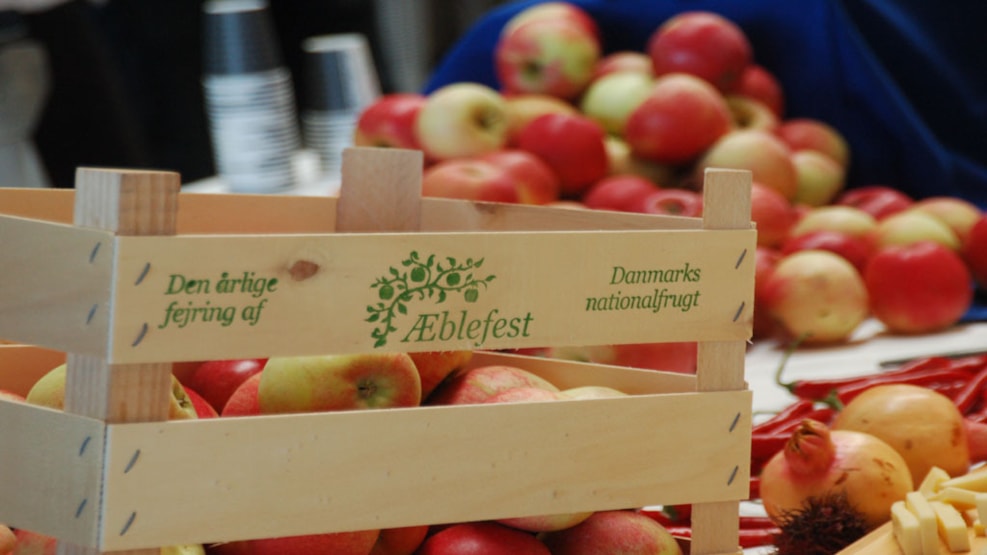 Rødding - the town of the apple
Rødding – the town of the apple in Salling. 10,000 apple trees before 2017. Our goals could not be clearer. Rødding is to be known for its apples. The whole "Rødding and apples" thing is not new. It goes way back.

There has been a palace garden at Spøttrup Borg castle for many years, parts of which the Danish Agency for Palaces and Cultural Properties is now recreating. When the state took over the castle in 1937, its land was divided up between smallholders and all 27 were invited to be part of a community that together ran 27 lots, each of around 0,55 ha, planted with apple trees.

Denmark's most famous apple researcher – Professor Anton Pedersen from the former Royal Veterinary and Agricultural University – was born and raised in Volling, a short distance from Rødding. He is buried at Volling cemetery. Anton Pedersen's scientific work lies behind the choice of apple varieties in Rødding, a choice made in close cooperation with head grafter, Boi Jensen, from Holstebro and the Pometum at the former Royal Veterinary and Agricultural University. So what are all these apples going to be used for? Well, first of all, the landscape will change with the planting of many beautiful trees for the benefit of animals and humans alike. Naturally, the fruit is to be enjoyed by local residents and visitors in every way imaginable, not just for eating and drinking, but also as a unifying force in relation to activities, artistic ideas and much more besides.
Culinarily speaking, two of the area's eateries are heavily involved – Spøttrup Kro inn and Traktørstedet Borgen at Spøttrup Borg. In recent years, many locals have been involved in their spare time with the seeding, transplanting and maintenance of apple trees of the good, old varieties. The planting of these trees is done in close cooperation with Skive Municipality, which has made the land available.
The fruit is also to be used by the community, with local institutions for children and the elderly enjoying their share. Any apples that cannot be eaten are juiced at the town's large mobile cider mill.
However, this is not just a part of the horticultural movement.  It is primarily to ensure that Rødding is, and continues to develop as, a good place to live and visit. With this initiative, a habitual way of creating activities continues – i.e. by taking the initiative as well as responsibility for the development of an area into an exciting place to live. Many people are interested in finding out about the "roots", and want to see/know where the ingredients come from. The whole "from field to fork" concept has never been stronger in people's lives. We are trying to help this in Rødding with our apple project, which will provide much joy for years to come...
Get more inspiration here:
Destination Limfjorden © 2023