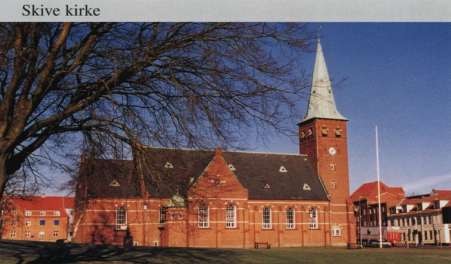 Skive Church
Skive Church was built 1896-98. Normally, Danish churches are placed with the tower/steeple facing west and the chancel facing east, but the architect chose to place Skive church north-south, thus making the church more visible in the town.
The church is also known as the "Red Church", and the name comes from the red bricks used to build the church, however its close proximity to the nearby Vor Frue Church - also known as the "White Church" can also explain the name. The reason for the two churches close proximity is that there was huge problems with space in Vor Frue Chruch, and therefore the initiative was made to build a new church.
A local pharmacist Gerhard Norgaard and his wife donated the money, and he is widely regarded as the man with the last say in the matter of the location of the church  - it is said that he wanted the church to be placed so he could get up in the morning and stand at the steps of the pharmacy and check the clock on the tower of the church.
Get more inspiration here:
Destination Limfjorden © 2023