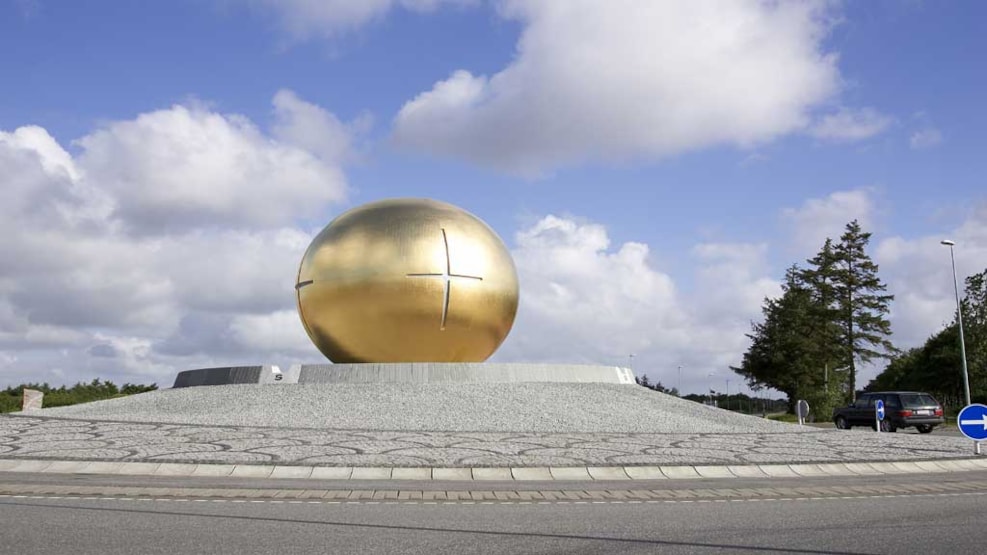 The Sun
Family
The Sun is located at the southernmost roundabout. It is the Bjørnevej - Sønder Boulevard roundabout. The Sun is related to the Sign located at the Ringvej Syd - Sønder Boulevard roundabout.
Story
The Sun and the Sign are about what it means to be a human being. The Sun is the first one in the line of stars and it encourages us to think about the fundamentals of being a human being. We are sun-created and sun-grown. Without our local star we would not exist. That is a fundamental condition which we share with everything on Earth.
The Sun also reminds us to appreciate the light. It is golden and overwhelming because, just like the sun itself, it must supply energy to those orbiting it. It is the first unveiling at the summer solstice.
Form
As regards form the Sun was inspired by the actual sun and by the Chariot of the Sun of the Bronze Age. The idea is based on the fact that Earth and life on Earth exist thanks to the sun and will cease to exist when the sun burns out. But it is also the inspiration that you get by experiencing another spring and seeing how life germinates, grows, and celebrates at the return of the light. Everything thrives in the light.
Get more inspiration here:
Destination Limfjorden © 2023