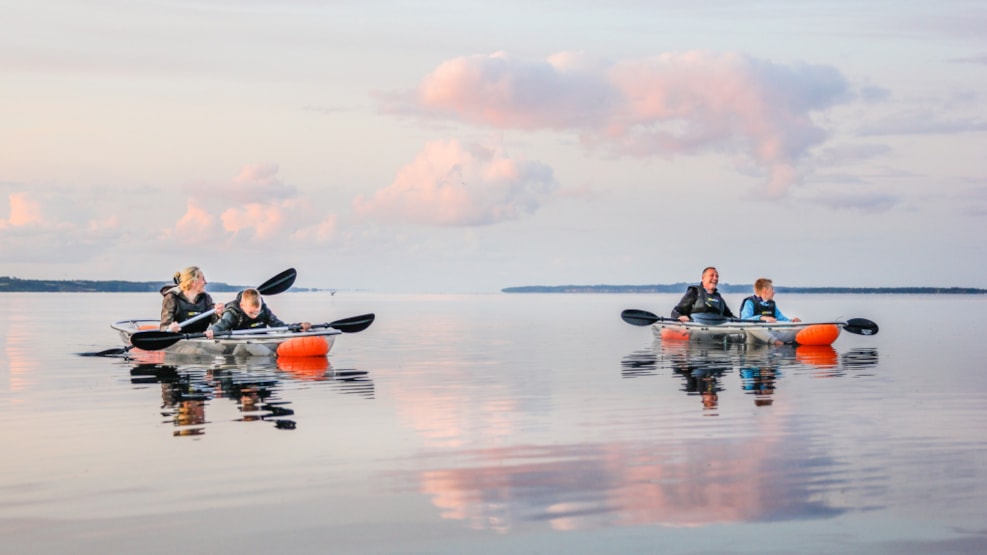 Sunset trips in GLASS KAYAK®
Experience the sunset from a glass kayak on the Limfjord
Sunset trips in GLASS KAYAK®
Enjoy the explosion of warm colors from the sunset over til Limfjord, as you explore the otherwise secret and hidden marine life underneath the surface - all from the unique, completely see-through canoe/kayakhybrids with VisionKayak (one of the only places in Europe!).
The trips in GLASS KAYAK® are almost like snorkeling - just without actually having to get in the water. The kayaks act as giant windows to the life beneath the surface, and as the sunset trips begin in the last daylight, you get a chance to explore that on these trips, too. You are also more than welcome to bring a flashlight, so you can continue to see what's underneath your kayak after the sun has set (all electronics at your own responsibility). However, remember to look up and around once in a while, too - as the sun gets closer to the horizon, the most stunning yellow, orange, red, and pink nuances appear in the sky above us. Slowly, the golden colors get replaced by turquoise, purple, and darker blues, and as we head back after the sunset, the brightest evening stars light up one by one above us. It is so beautiful!
These trips are perfect for families with older children, couples, groups of friends, coworkers, events, etc. On these trips in transparent kayaks, you can experience crabs scurrying across the bottom of the Limfjord, tiny sea anemones waving up at you, eel grass tickling the bottom of your GLASS KAYAK®, large areas of blue mussels, small fish, and, if you are lucky, the rare Limfjord oysters or the stunning starfish, as well as all the other marine life underneath the surface of the Limfjord. At the same time, you get to enjoy a lovely experience in this particularly beautiful part of the Limfjord with forest all the way down to the waterline and very rich birdlife.
Anyone can join VisionKayak's trips - regardless of age and experience, as our GLASS KAYAK® is extremely stable, open, safe, and very easy to row and maneuver. You'll get a short introduction to basic techniques on land before we head out, and you'll borrow a CE- and safety-approved buoyancy aid (size two years to adult XXL) that must be worn during the trip.
There's always at least one instructor from VisionKayak with you during the trip to ensure safety and answer any questions you may have about the kayaks, technique, the area, and the marine life.
VisionKayak is the first place in Denmark (and the rest of Central- and Northern Europe!) where you can experience see-through kayaks, so here's a great opportunity to experience something completely unique on your holiday! Remember to check out our morning and full moon tours in GLASS KAYAK®, too.
Book this trip  
Date: The season is from around May till August (depending on the weather) - see dates in the booking system
Place: Marienlyst Strand, 7800 Skive
Information and booking: www.visionkayak.com/en/book 
Prices for 1,5-2 hour trip incl. a short introduction at land:
200 DKK/child max 12 years old
250 DKK/adult