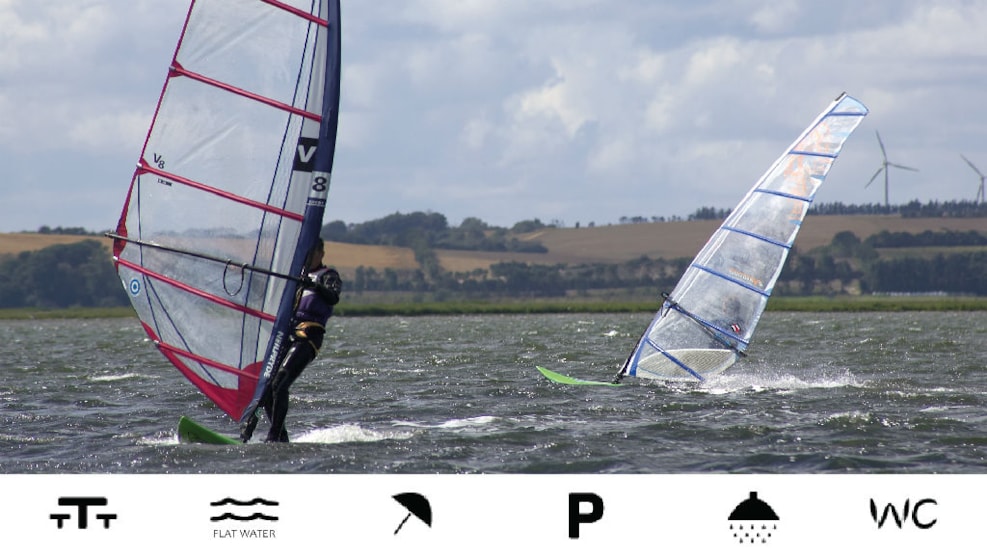 Surfspot | Hjarbæk Fjord
Hjarbæk Fjord
Hjarbæk Fjord is situated 10 kilometers north of Viborg and 20 kilometers east of Skive. The area is characterized by its beautiful scenery and invites you to stay active. The hiking routes is one way of exploring the area.
Hjarbæk Fjord should be experienced from sea as well. During summer the destination is popular for windsurfers, kitesurfers, surfers on stand up paddleboards, and kayak users.  
The best spot at the fjord is placed in the northern part close to Virksund Camping. There are great conditions and you can park at the north side of the harbor.
Sailing Conditions
The spot at Virksund is narrow from west to east and stretches over a distance of 500 meters. The place is great for freestyle windsurfing, but there is also room for beginners as you are always close to land. Beginners should not get in the water when the wind goes south or when there is a strong waterflow. If you are not sure about the waterflow you can ask a local. At the Virksund side the water is very deep, but at the Sundstrup side there is a large area where the water is not very deep (1,5 meters).
Coordinates: : Latitude : 56.610858 | Longitude : 9.29433
Vindretninger: North: 3, North-East: 4, East: 5, South-East: 4, South: 3, South-West: 3, West: 3, North-West: 3
Get more inspiration here:
Destination Limfjorden © 2023