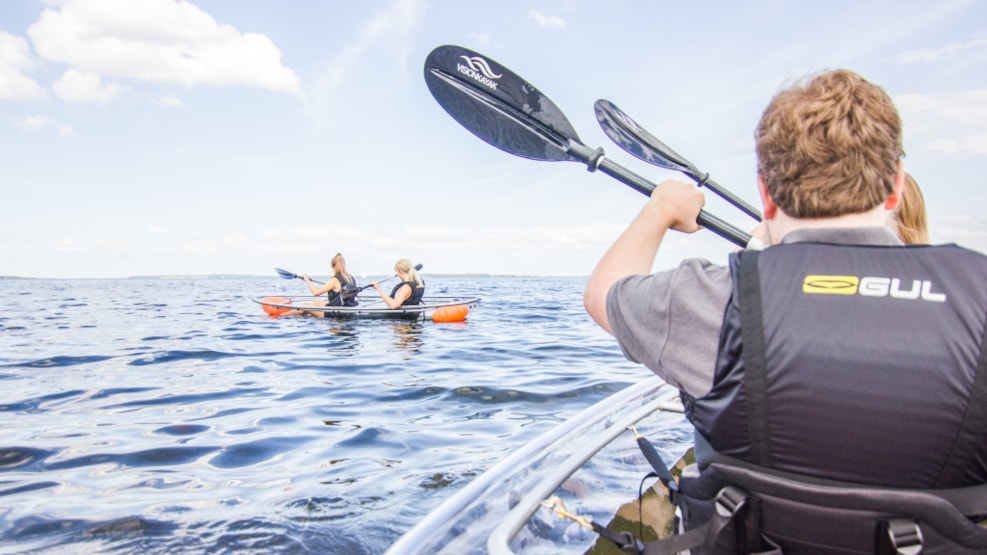 Tours in glass kayaks on the Limfjord
Row under the full moon in a glass kayak on the Limfjord
As one of the only places in Europe, you can row in crystal-clear glass kayaks with us; a fantastic experience both above and below the surface for families, couples, friends, and events! Join VisionKayak on a trip on the beautiful, clear water of the Limfjord in kayaks that act as giant windows to the world beneath the surface. Experience the mussels of the Fjord, here amongst the famous oyster of the Limfjord, seaweed, crabs, and all the other life in the Limfjord, while you enjoy a lovely trip on the water! You can choose between three different types of tours: morning-, sunset-, and full moon tours. On the morning tours that starts at 10 o'Clock, you'll get maximum payoff of the aquascope effect through the glass kayaks, which makes you feel like you're diving – but with dry
feet! On the romantic and epic sunset- and full moon tours, we'll be at the front row to some of the most beautiful evening shows of nature with amazing colors, stars, and the silvery light from the full moon. On the days with no wind, the fjord acts as a giant mirror and reflects the beautiful colors above us, which makes you feel like you are rowing directly on the sky! Read more about the three types of trips and book your seats now at www.visionkayak.com
The kayaks are wide, stable, and easy to steer, so you do not need any rowing experience to join us. You'll get a short introduction to the glass kayaks and basic steering techniques before we head out, and we'll stay together and close to the shore during the entire trip. Typically, the tours last between 1,5 and 2 hours, and we row at a speed that allows everyone to keep up. Each kayak has room for two people, so this is the perfect opportunity to share an experience with someone dear. We have the swimming vests, so all you have to do is meeting us at Marienlyst Strand in Skive, and wear swimwear, clothes that may become wet, or rain clothes, as the paddle picks up a little water at each stroke you take. It's possible to buy drybags on site. There's a limited number of seats on the tours, so hurry up and book yours at www.visionkayak.com Here, you'll also find videoes of the view through the bottom of the kayaks, as well as more information about the three types of tours.
Prices for 1,5-2 hours tour incl. a short introduction at land:
200 DKK/child below the age of 13 years.
250 DKK/adult
Get more inspiration here:
Destination Limfjorden © 2023