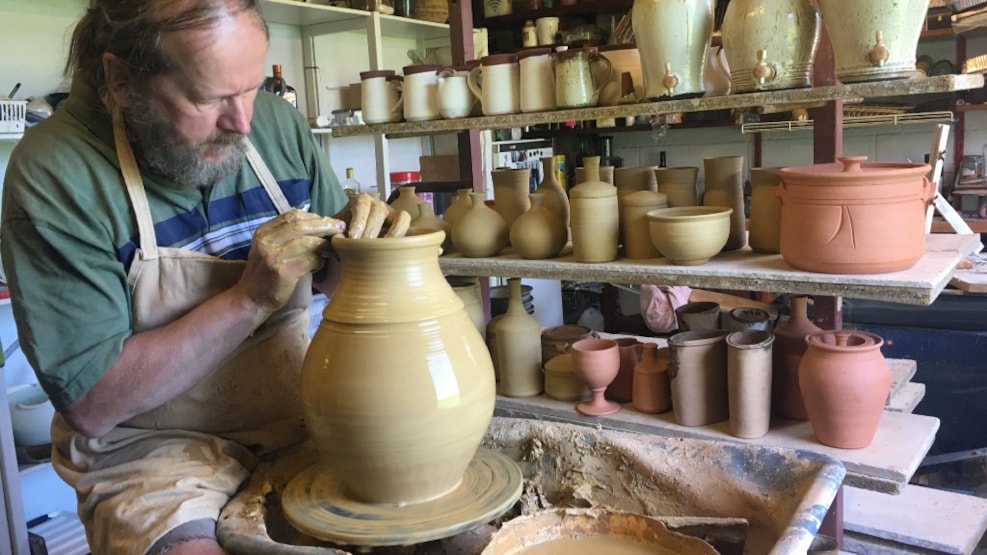 Henning Fjendbo Ceramic
Visit the potter Henning Fjendbo on his farm near Spøttrup Castel, where you will find a workshop and a large gallery in his stable.
Henning Fjendbo Ceramic - Gallery and Potter
HF Ceramic in Spøttrup is a wonderful place with a gallery and a clay workshop. Here you will find Henning, who gladly will tell about the clays transformation from a clump of clay on his turntable to a cup or a vase. All his creations can be bought in the gallery.
They appreciate a good piece of handcraft at HF Ceramic. Henning himself enjoy drinking coffee from his own clay cup and decorates his home with homemade plates, jars, pots and much more.
He can also make huge reliefs for decoration and other pre-ordered works.
You can find all his work in the gallery.
Opening Hours
During the summer, the gallery and workshop is open Monday - Friday from 11 AM to 5 PM. There is also open the rest of the year, but the opening hours and closing days varies.
For more information
You can read more about Henning Fjendbo Ceramic - Gallery and Potter on their homepage (in Danish): Henning Fjendbo Ceramic - Gallery and Potter