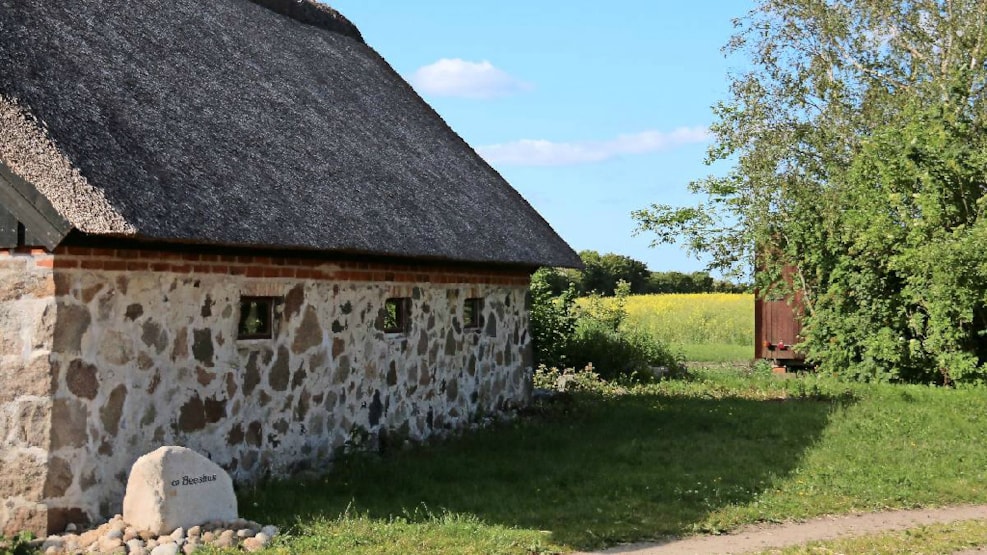 æ Beeshus - Ny Spøttrup
A "Beehus" was a small stable where animals could seek shelter when the insects began to bite. They say in Jutlandic that creatures "bisser" when they run together in a herd. This is where the name Beeshus comes from. Today, only a few of these buildings are preserved. One of them forms part of the protected cattle farm of Ny Spøttrup at Salling. The farm was built in 1870 by Spøttrup Borg's (Spøttrup Castle's) owner, Niels Brejnholt, who came from a famous family of cattle dealers and cattle breeders.
In 2013, the farm's owner Marianne Lindsmann decided to save æ Beehus from ruin. With support from various funds, the historic building has been renovated and preserved, and is part of the story of the cattle breeding and cattle dealers on Salling and Mors, as well as the whole of West Jutland, during the 1800s.           
In 2014, æ Beehus was opened to guests. There are signs from Heden. You can walk, cycle or drive your car here. There are tables and benches, and admission is free. But you cannot stay overnight in the shelter. Æ Beehus is also used in connection with the other activities at Ny Spøttrup. The farm's owner organises tours and talks at the cattle farm, as well as working with local associations and people to arrange courses and events involving nature, art and music. As Rødding is the Town of the Apple, the apple is the theme of many of the activities.
Nearby is Ginnerup Plantage, with its passage grave, and at Nymølle there is a beach, as well as toilets, a shelter and a place for bonfires.
Get more inspiration here:
Destination Limfjorden © 2023