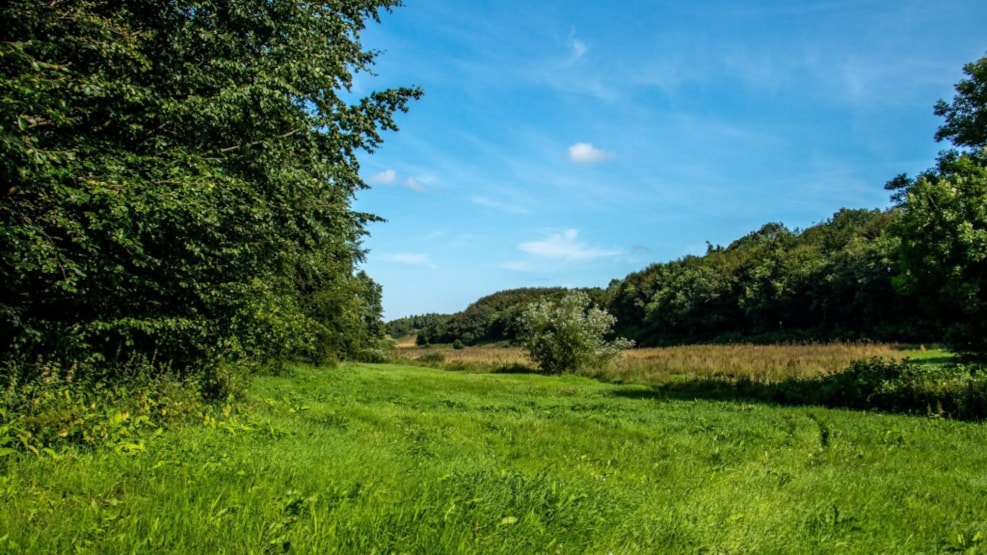 Balling Nedermølle/Overmølle
Balling Nedermølle / Over mølle
Through a varying terrain consisting of agriculture, meadow and forest shaped by the ice age, the hiker passes past traces of three old mills, where the first records are from 1393.
Balling Nedermølle / Over mølle
The path is marked and starts on Nyvej opposite the Nursing Home.

The first part of the tour goes through cultivated farmland with beautiful views of the open country. After a few kilometers you come to a meadow where the path goes through a beautiful nature area.

Just after the forest, cross the road and the path continues along a small road for a short distance. Then the path continues along a stream with meadows and a very beautiful landscape shaped by the ice age for approx. 12,000 years ago.

There are still traces of 3 mills, which over time have been in the meadows. Watermills are known from around the 12th century and here on the site we have the first records from 1393, where Balling Nedermølle is mentioned in a deed. Nedermøllen is thus mentioned before Spøttrup Borg in history.

The path ends at a paved road (Nedermøllen) and here turn left and continue up the hill where at the top you have the farm Nedermøllen on your right hand (Nedermøllen was in its time down by the river and was the bottom of the three watermills).

Continue towards Balling Church and follow the gravel road past the church down to Præstegården. From here there is a path to the left of the rectory, and you come to Villaparken.

If you are driving, you can park in the car park at Balling Bypark (on Nørregade).

Now that you're in Balling anyway, look into Balling City Park. It is a very nice park, and you can enjoy your brought food on one of the benches - or take a look into "Pulsen".

The trip is approx. 7 km.
Get more inspiration here:
Destination Limfjorden © 2023