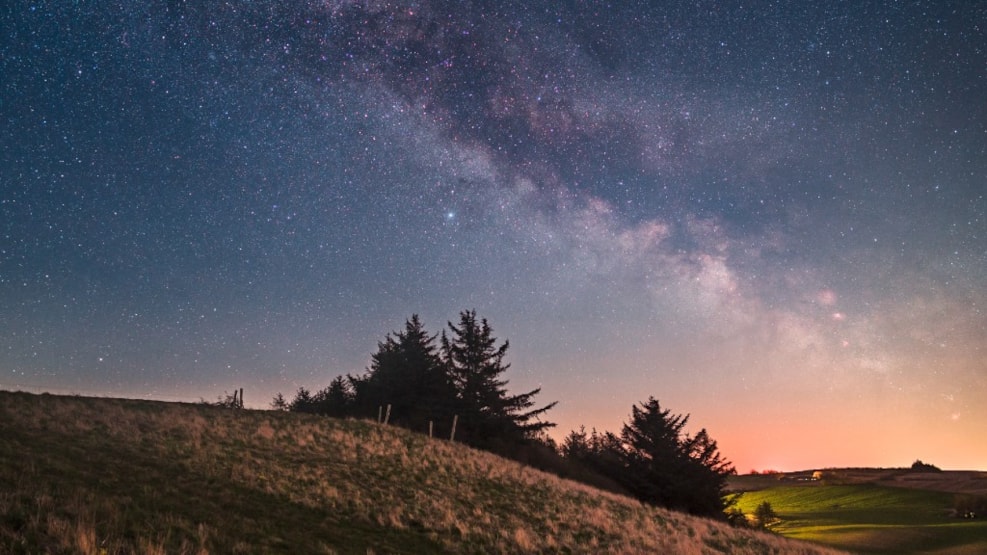 Dark Sky spot - Hanklit
Hanklit is one of the most visited natural areas in the daylight, but it definitely should be experienced under the dark sky! Here you can enjoy stars either by staying in the big and broad parking area – or by hiking to the top of Hanklit, sitting down and enjoying the beautiful view over Mors and Limfjord. You will experience soft light shining from the other side of the fjord, exactly the city of Thisted, which create golden shadows in the dark landscape.
The area is handicap friendly.
Be really careful at the edge of the cliff and down on the beach.
Well-adapted for experiencing: Milky Way, Northern Lights, Meteor showers, Noctilucent Clouds, Bioluminescent algae, Moonrise, Moonset

Facilities: Toilet, tables, benches

Parking: Hanklit parking
Dark Sky in the Limfjord's country will take you on a time travel through billions of stars, offer an ease for your souls and non the less create lots of unforgettable memories of the fascinating night sky phenomena.
You can read more about Dark Sky in Destination Limfjorden here: Dark Sky in Destination Limfjorden
Being outside at night
It is our common responsibility to respect natural environment, especially as many animal species are active during night time. It is important to switch the light off, when there is no need for using it – doing this will help you to avoid affecting your night vision and others in the area. Remember not to leave anything but your footprints out in the nature.
Get more inspiration here:
Destination Limfjorden © 2023