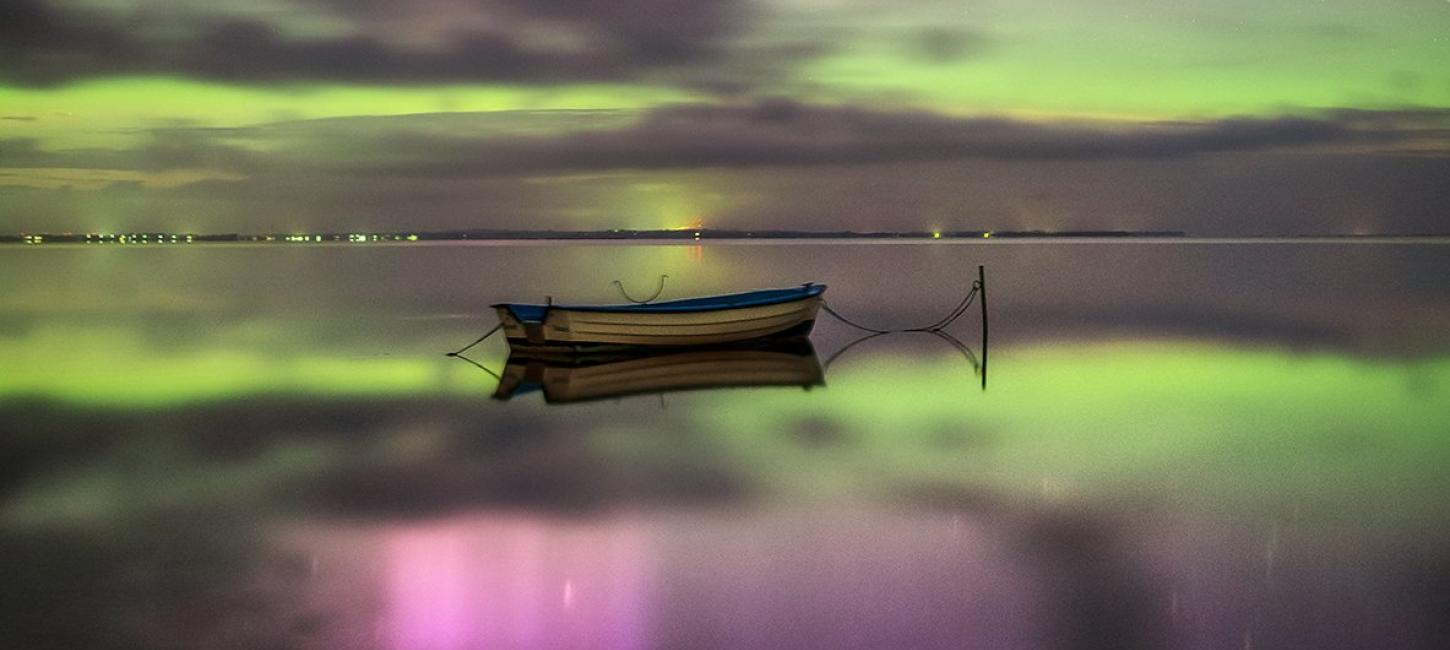 Dark Sky at the Limfjord
In the Limfjord-area you can experience some of the most majestic natural phenomena, which only occur when it's dark. And thanks to the lack of light pollution, you will even have an opportunity to experience the tightly packed starry night sky dancing in the calm waters of Limfjord.
Did you know that peak season for stargazing experiences lasts from August to May?
Even though it's possible to see stars all year round, also during bright summer nights, the most fascinating night sky phenomena begin to occur above the Limfjord first when it is late Summer. The so-called "Dark Sky"-term is a definition of truly dark nights in the outstanding quality – where starlight is the dominant light source. By the Limfjord, the Dark Sky experiences will offer you taking on a time travel through billions of stars, as well as an ease for your soul and even an unforgettable experience of the Northern Lights – if you will be one of the lucky ones.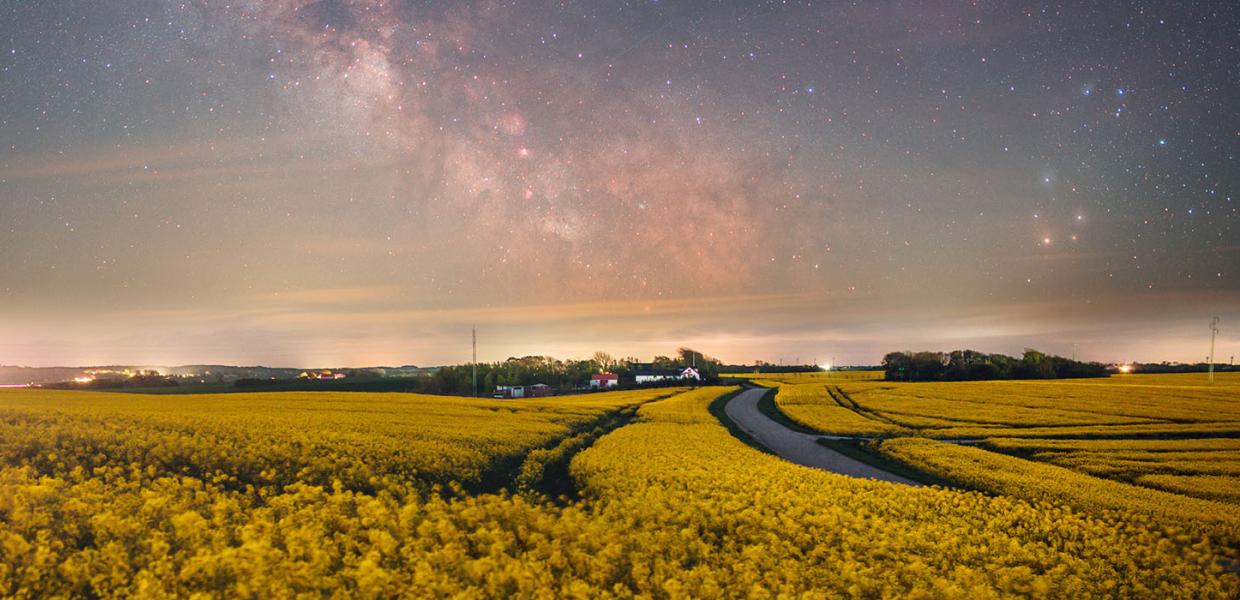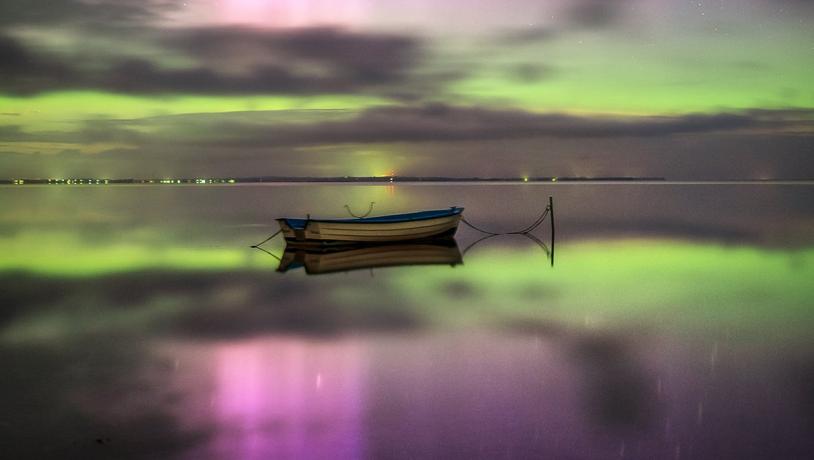 Photo:Ruslan Merzlyakov
Northern Lights
Currently our Sun is extremely active, which means lots of nights with the Aurora-experience up to 2030! When bright Northern Lights dance over the Limfjord, it occurs as an exceptional and unforgettable sight, full of magical moments. And if you are patient enough, you might even have a chance to see high pillars of light spreading across the horizon and above the fjord. Yes, you can see the Northern Lights in Denmark.
Did you know, there are some weeks, where it's possible to experience Northern Lights several nights in a row – also by the Limfjord?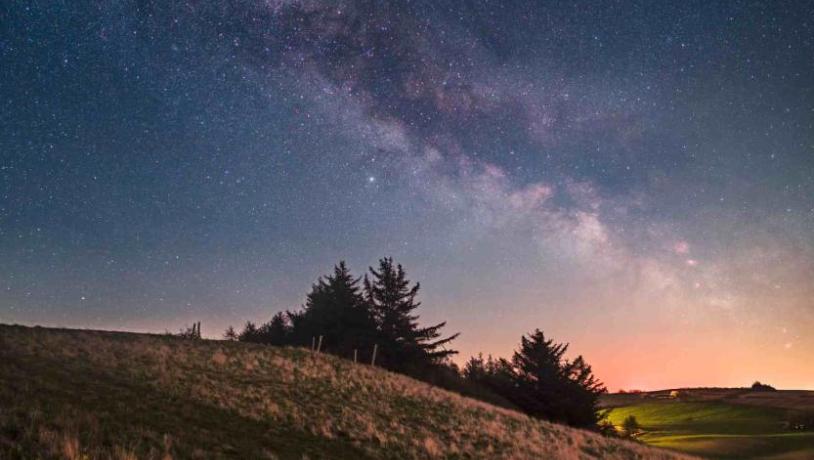 Photo:Ruslan Merzlyakov
Milky Way
The bright path of our own home galaxy, the Milky Way, can clearly be see in the beginning of each dark-sky season and roughly until November. About 2 hours after sunset, right around the nightfall, you will be greeted by the bright "cloud" in the sky that looks like a pillar filled with billions of stars. During wintertime it becomes more challenging to see the structure of our galaxy, as the Earth "looks away" from the Milky Way's core area – but at that time of the year you will find the brightest stars and the most known constellations in the night sky.
 
Did you know that Milky Way galaxy is home for more than 200 billion stars?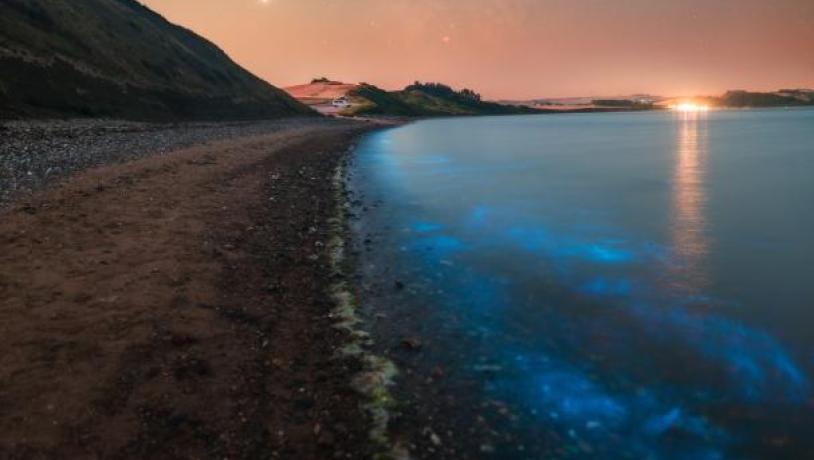 Photo:Ruslan Merzlyakov
Bioluminescence
Experiences in the darkness by the Limfjord do not end with the magic up in the night sky, but they also continue down in the water. In July and August there are highest chances to experience bioluminescent algae, which in Danish we call "morild". The phenomenon occurs when it's very warm outside, allowing the midnight guests to see thousands of blue shooting stars shining along the shore. And you will even get a truly magical experience if you will take a swim in the Limfjord among the stars.

Did you know that the island of Mors is one of the best places to experience bioluminescent algae in whole Jutland?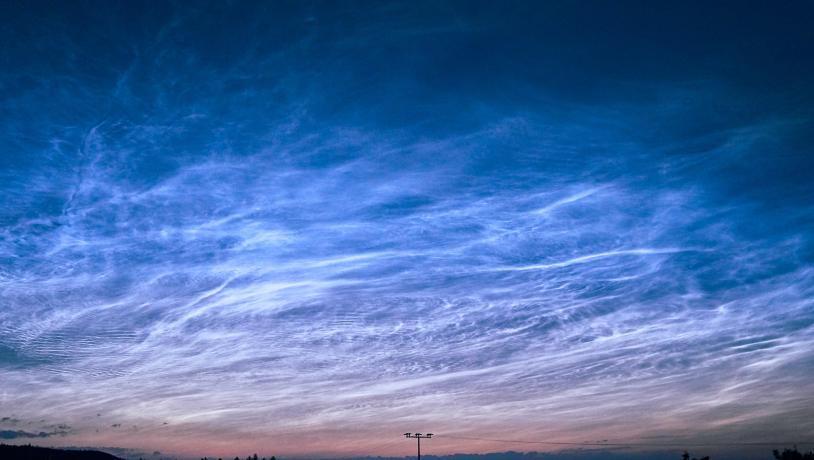 Photo:Joshua Humpfer on Unsplash
Noctilucent Clouds
Even though we have bright summer nights in Denmark, it doesn't mean that you will be lacking stargazing experiences during the holidays. It is simply because you can experience a truly fascinating night sky phenomenon, named Noctilucent Clouds (lat. Night-shining; short NLC), which only occurs during summer months. The phenomenon can be observed in the late-night hours, when sunlight gets reflected from tiny ice crystals, situated in the upper atmosphere layers at the 80-km altitude. Every night can be unique, because NLCs can appear in many different forms. And the experience becomes even more magical, when you can see reflections of these night-shining clouds in the calm waters of the Limfjord.
Did you know that scientists use Noctilucent Clouds to study climate change?
Where can I experience Dark Sky?
To achieve the best experience of the night sky and different phenomena, we recommend going to a beautiful natural area. Down below you will find an overview of the best spots worth visiting to get an unforgettable experience under the dark skies – whether you prefer short stargazing getaways or spending an entire night together with your camera.
When is it best time to take on star-adventures?
Like the season on our planet change, our night sky also changes its "appearance". Every season offers some specific night sky phenomena, which only can be experienced at a certain time of the year. Find out when it is perfect time to take on a hunt for the Aurora and when – to look up for hundreds of shooting stars!
 
Did you know that we see sky objects in the past, as it takes light up to several million years to travel towards us?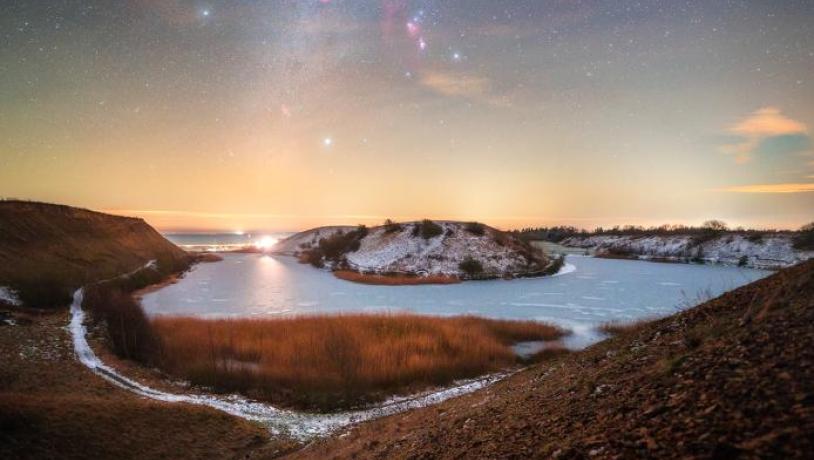 Photo:Ruslan Merzlyakov
Winter
Diamonds of the Winter night sky

Orion constellation

Aurora

Quadrantids meteor shower (January, up to 120 shooting stars/hour)

Geminids meteor shower (December, up to 120 shooting stars/hour)

Ursids meteor shower (December, up to 10 shooting stars/hour)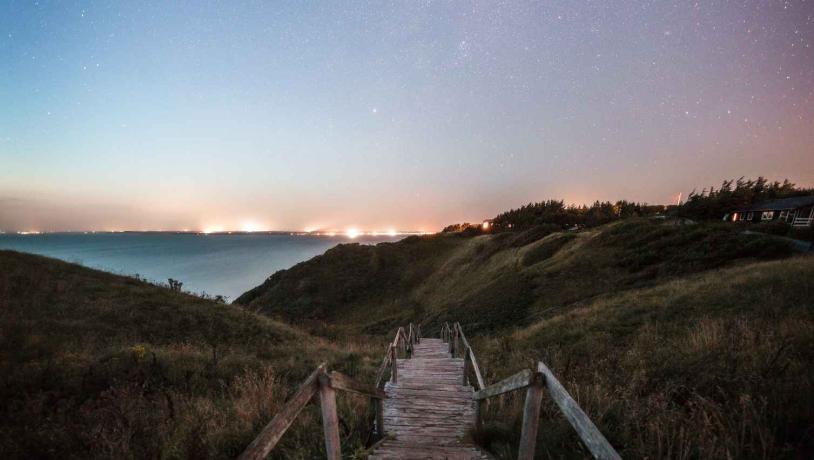 Photo:Ruslan Merzlyakov
Spring
Aurora

Zodiacal Lights

Lyrids meteor shower (April, up to 18 shooting stars/hour)

Eta Aquarids meteor shower (May, up to 50 shooting stars/hour)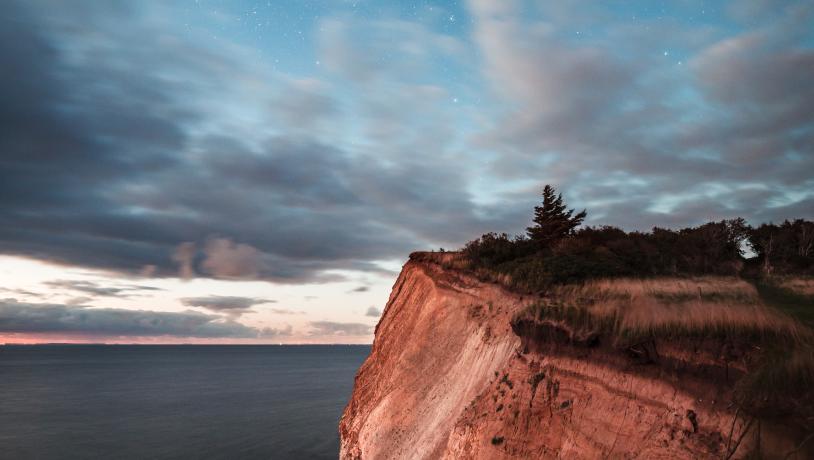 Photo:Ruslan Merzlyakov
Summer
Noctilucent Clouds

Bioluminescent algae

Milky Way

Perseids meteor shower (August, up to 150 shooting stars/hour)

The night glow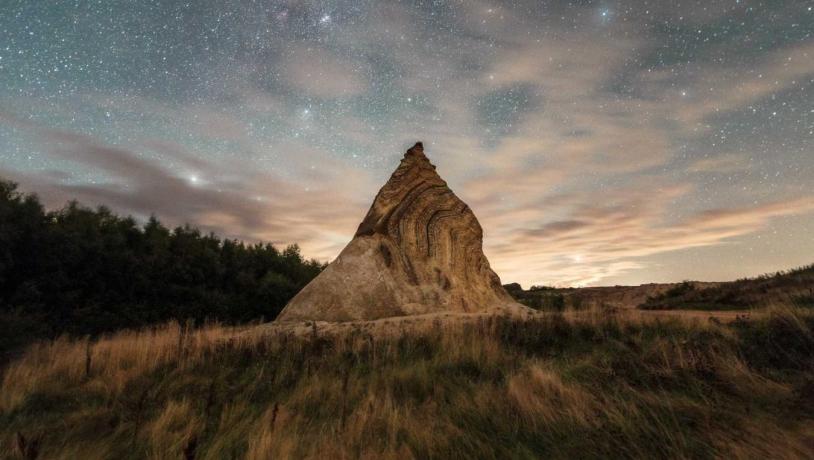 Photo:Ruslan Merzlyakov
Autumn
Milky Way

Aurora

Andromeda galaxy

Orionids meteor shower (October, up to 20 shooting stars/hour)
You have to be here to believe
Can you really see Milky Way with the naked eye? Or experience Northern Lights in Denmark? Unfortunately, we often hear that people simply cannot experience any of these fascinating night sky phenomena here in the area. But it's far from being the truth!
In this article we are going to debunk this myth and at the same time we will try to inspire you to take on an adventure to explore our wonderful night sky.
Get more inspiration here:
Destination Limfjorden © 2023