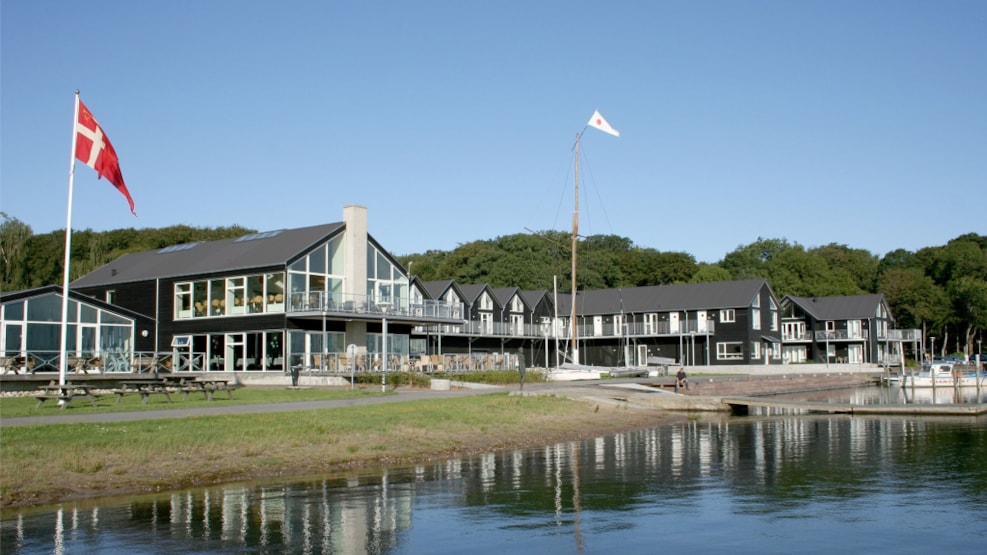 Hotel Strandtangen
Hotel Strandtangen in Skive is located on the edge of the Limfjord and with magnificent views over the fjord and the marina.
Hotel Strandtangen
Hotel Strandtangen is a hotel- and conference center with a unique location with the front to the marina, almost "in the water",  and with Krabbesholm forest on the other side there is every opportunity to see the beauty of the nature in the area. An elaborate system of paths along the water, through the forst and the creek valley gives great opportunities for cardiovascular exercise.
Hotel Strandtangen is a hotel and conference center located by Skive Marina.
The hotel's location is unique with the front being right next to the water, almost dipping its toes in the water close, and with Krabbesholm forest basically being the backyard, there are a lot of possibilities for a scenic experience.
An extended trail system both along the water, through forest and river allows for picturesque trips through the nearby nature.
Although Hotel Strandtangen offers all these wonderful nature opportunities, with more to come, to enjoy the surrounding nature, it does not mean that you are completely disconnected from civilization, because Skive city with all its opportunities for shopping and culture experiences are right on the other side of the forest.
Information:
For contact, opening hours or more information about Hotel Strandtangen: Hotel Strandtangen
Fly to Destination Limfjorden with Aalborg KML – Amsterdam-Aalborg
Leave your car at home and fly with Aalborg KML from Amsterdam to our destination. It only takes 1,5 hours from Aalborg Airport to Destination Limfjorden, where you will find beautiful landscape, local delicacies, and long and undisturbed coastline. Our Limfjord area is a haven for foodies, nature lovers and families alike!
You can read more here: KML Aalborg