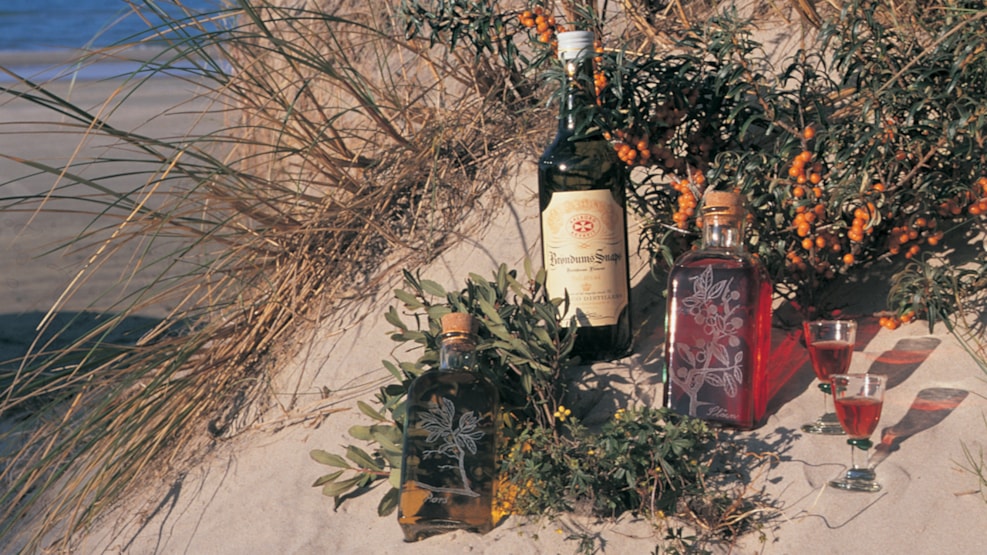 Mini holiday on the Schnapps Route
The Schnapps Route appeals to both your fantasy and taste buds as well as the joy of nature. The hotels and inns on the Schnapps Route have been selected because of their high gastronomic levels, their ability to create an inviting ambiance, and their location.
A delectable lunch with great home-spiced schnapps can in itself be an experience. Thus, if you find a fantastic place, the route can easily be altered so you can have more than one overnight stay at that exact place. The route can also be tailored to include more visits to some of the attractions along the Schnapps Route.
You can, for instance, choose between Tambohus Kro, Hotel Thisted, Hvalpsund Færgekro, St. Binderup Kro, and Hotel Thinggaard. Furthermore, the brewery Fur Bryghus is included as a lunch restaurant.
On the Schnapps Route are several interesting attractions that are all worth a visit: Vitskøl Abbey, Vorupør Museum, Nordvest Safari Thy-Mors, Doverodde Købmandsgård, Brænderiet Limfjorden, Thise Mejeri, Dan Duck/Jyske Raavarer, the Manor Hessel, and Glenholm Winery.
PRICE: For one overnight stay incl. breakfast, a three-course gourmet dinner, the Schnapps Route gift box, and free admission to one of the attractions along the route € 122 per person in a double room.
Extra fee for single room € 48.
Extra overnight stay incl. half-pension € 81 per person in a double room.
TOUR NO. 602
Get more inspiration here:
Destination Limfjorden © 2023