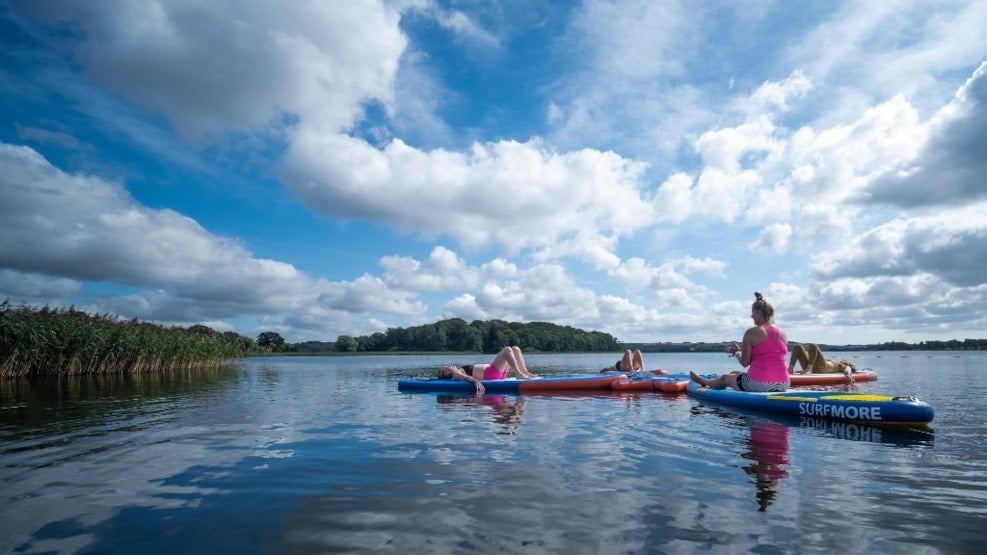 Naturlig Bevægelse - Yoga and Pilates
'Naturlig Bevægelse' (natural movement) focuses on the body's natural movements with inspiration from the nature. Here you can experience SUP yoga/Pilates, Pilates at the Limfjord and Mindfulness in the Forest.
Naturlig Bevægelse - Yoga and Pilates
Lisbeth Bundgaard is the owner of this small company. She is a physiotherapist, Master in Pilates, and a nature therapist. She loves to teach out in the nature, where the ground is soft and natural - where you can see the sky and hear the 'music' from the surrounding birds, the Limfjord and the wind.
She is inspired by the animals' and the nature's movement and uses those elements in her classes.
Naturlig Bevægelse is placed in North Salling, only 1,5 km from the island Fur. Her activities will often be on Fur or in North Salling.
SUP yoga/pilates
SUP yoga/pilates are slow Pilates and yoga exercises, which are possible to do on a Stand-Up Paddle board. Here you start with feeling the water beneath you and taking deep breaths. Then you will, slowly, start with other exercises that are more difficult and require a good balance, but still in a tempo that your body can handle. And it is not as hard as it sounds.
Each SUP board is connected to the teacher's platform so your board won't float away. You can borrow both a wet suit and a swimming west.
Pilates at the Limfjord
Pilates at the Limfjord is for those who want to work with the whole body, on a safe and soft ground, with a view over the Limfjord. Here you will work with your breathing and the body's natural movement. Afterwards, you will feel a relief and a great feeling in your body.
"Mindfulness in the forest" (Skovbad)
'Skovbad' is about being present, right now, in the nature. It is a form of mindfulness, where your body and mind are stimulated by the nature. You will move slowly, sit slowly, stand slowly, and listen, feel, hear, and taste in the nature. This has many positive effects on both the mental and physical state of being.
Event page
On the event page you can read more about the different classes and activities. Here you can also you sign up for the event. You can see the events here (Danish): Naturlig Bevægelse's event page
For more information
The abovementioned activities take primary place in the summertime – except "Mindfulness in the forest". During the wintertime, Lisbeth arranges Pilates and workshops inside or online. You can also book her for a specific event.
You can read more about Naturlig Bevægelse on her homepage (Danish): Naturlig Bevægelse
Get more inspiration here:
Destination Limfjorden © 2023