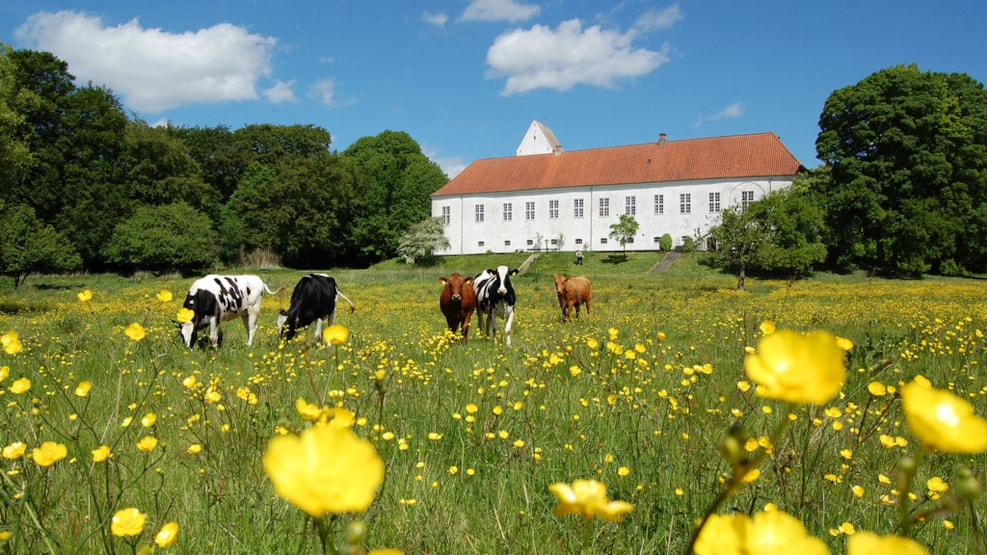 Ørslev Kloster Retreat
Ørslev Kloster is a gem that you'll find near Limfjorden in the region between Skive and Viborg. Explore Ørslev Kloster's park and forest—a beautiful experience filled with historical memories.
The history of Ørslev Kloster dates back to the latter half of the 12th century, and several centuries of events and trends have left their mark on the place. Therefore, the monastery and its surroundings offer a unique experience, not least because the atmosphere is filled with tranquility and peace.
Since 1969, Ørslev Kloster has been one of the oldest and most well-known working retreats in the Nordic region. Behind its thick walls, journalists, writers, musicians, students, business people, and others with work projects find a peaceful environment for immersion. Consequently, the monastery is only open to the public on special occasions, and guided tours for groups must be booked in advance.
However, Ørslev Kloster is always worth a visit, as the park and forest are open to everyone. In the monastery forest, also known as Kvindsnapskoven, you'll find a marked nature trail that takes you past twisted deciduous trees, a small forest pond, the dance floor at Kvindsnapbøgen, and the wooden bridge at 'Snekken'. Here, you'll find tables, benches, a picnic house with a compost toilet, as well as a grill and bonfire area for free use (bring your own drinking water and remember to take your trash with you when you leave). The forest is a small remnant of a once large forest that extended towards the fjord and was an important source of fuel and building materials for the estate and the region. As late as the 1700s, around 300 pigs still grazed in the winter forest.
In Ørslev Kloster's beautiful park, you'll find more than 30 types of herbs and plants—living reminders of the nuns' monastery garden. You can also experience the lime tree avenue with very old lime trees, planted in the early 1700s, and the remains of a 19th-century garden with fruit trees. The dance floor has been restored in the southeast corner of the forest, and a puppet theater and musical instruments are set up for everyone to use. Accessible from Ørslevklostervej—with parking in the forest—there are portable toilets and a beautiful picnic house with a shelter called 'Snekken,' freely accessible to all.
The protected monastery garden and forest, along with a marked nature trail, are open to the public. The forest consists mainly of very old deciduous trees, especially beech and oak. The Kvindsnap beech, with an almost 6-meter circumference, is likely around 300 years old but now stands as a charred beech, having been caught in multiple fires. In the storytelling house along Hejlskovvej, everyone is welcome to watch films and learn about the monastery's multifaceted history. There is free admission, and there are wheelchair-accessible entrances and toilets for free use. If you're fortunate, you might witness the monastery's carpentry work in the adjacent workshop.
Ørslev Kloster is a gem located near Limfjorden in the region between Skive and Viborg. As a guest, you are warmly welcome to explore Ørslev Kloster's park and forest—a beautiful experience filled with historical memories.
Get more inspiration here:
Destination Limfjorden © 2023