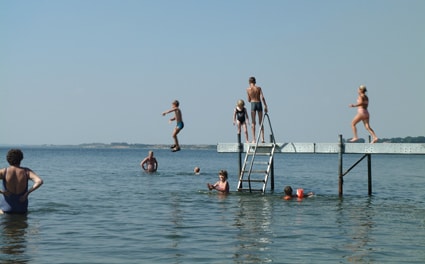 Østerstrand
Østerstrand is located at the northern part of Nykøbing town.
For exampel you can bring your picnic basket and go to the seashore Ørodde, one kilometer from the center of Nykøbing Mors. Here you will find Østerstrand, which is surrounded by a large green area with forest. There are adequate parking options, toilet conditions and ramps for disabled. Along the entire 500 meter long sandy beach you will find tables and benches where to enjoy yourself with the picnic.
The beach is suitable for children, as the water depth increases slowly. Also, you will find a long bathing bridge. The beach volleyball court is very popular, but if you really urge for water, you can choose the court that entails a dip into the water when the ball hits the water.
Travel sustainably in North Jutland
Getting around North Jutland with public transport is effortless. Plan you trip with bus, train or 'Plustur' on rejseplanen.dk
Get more inspiration here:
Destination Limfjorden © 2023