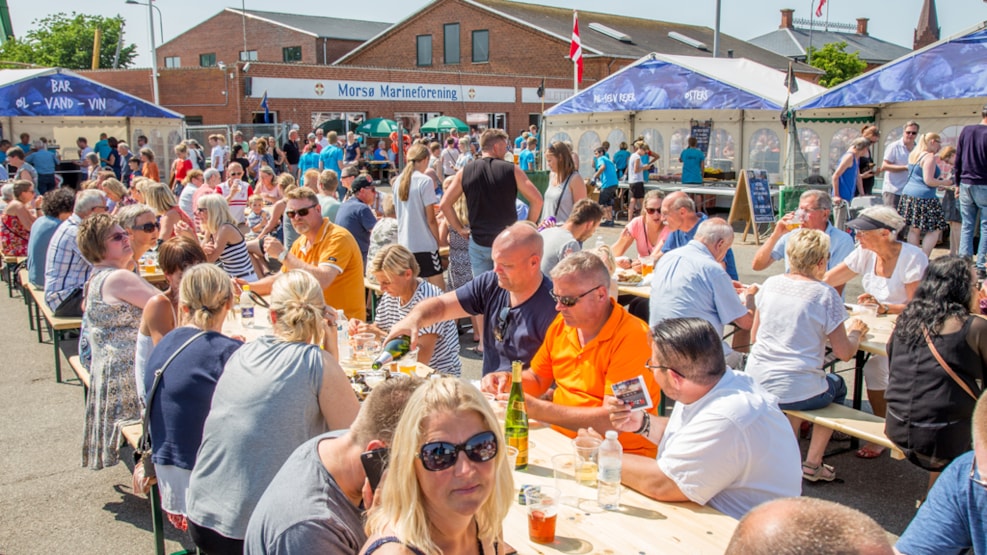 Shellfish Festival
The Shellfish Festival is a new taste experience. A feast for the eyes. New impressions. Music to your ears. Maritime experiences for children an adults. An intense and authentic atmosphere. Walk on the quayside. All the best Limfjord has to offer in one place. In short: what we call "Hygge on the edge of the Limfjord".
Over the weekend, there is a wealth of experiences, such as
A family event – with simple and delicious food
Shellfish cinema – film experiences for the youngest ones.
Food market – taste locally produced, great foodstuffs
Limfjord platter – a cornucopia of shellfish from the Limfjord
Live music on the stage
Experiences for children
Sailing with the Limfjord cutter
NB – we would like to point out that the various events run on different days during the Festival! You can find more about the programme at skaldyrsfestival.dk
Limfjord's treasure trove
Already back in the Stone Age (5200-4200 BC) oysters were a large part of the Stone Age man's diet and laid the nutritional foundation for the development of the human body and brain, which was evident after the excavations of kitchen middens at Ertebølle.
From poor man's food to "crown jewels"
For centuries, locals have gathered in the countryside and picked Limfjord's fruits in the shallow water along the Limfjord.
Oysters and mussels were regarded as poor man's food, but in 1587, Frederick II introduced a ban on oyster fishing. The oyster was a so-called "crown jewel" and there were severe penalties for those who dared to defy the ban. In the case of repeated violations of the crown privilege, punishment could be death.
Seafood buffet
On Saturday evening the Shellfish Festival invites you inside the big marquee. The year's huge Seafood Buffet will be served here for about 750 guests from near and far.
The attraction is extraordinary gourmet experiences – a Mecca of delicious dishes with seafood from the fjord and sea.
After the meal Friday a jazzband will be playing and on Saturday a popular dance Orchestra sets the scene for dancing.
You can buy tickets for Friday here - Tickets Friday
You can buy tickets for Saturday here - Tickets Saturday
Travel sustainably in North Jutland
Getting around North Jutland with public transport is effortless. Plan you trip with bus, train or 'Plustur' on rejseplanen.dk
Get more inspiration here:
Destination Limfjorden © 2023