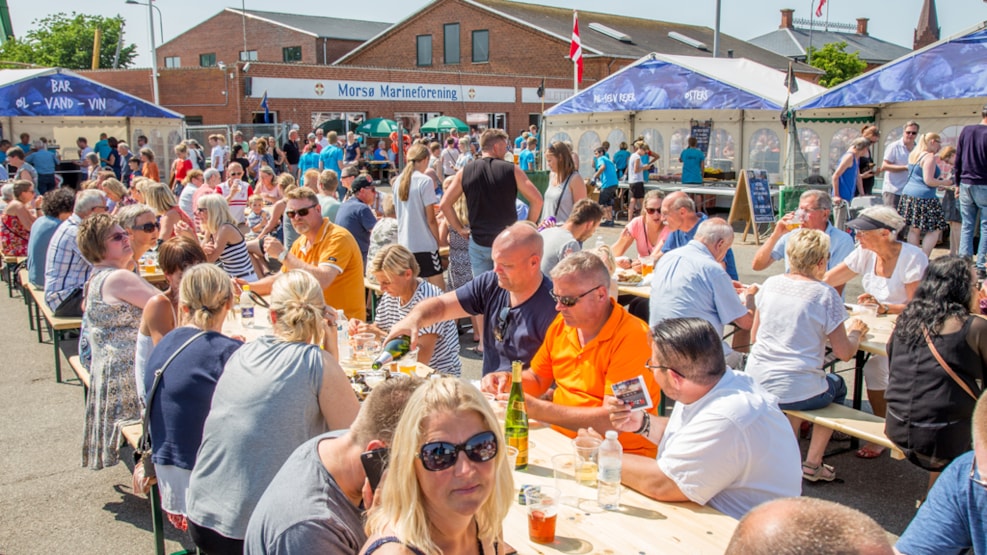 Shellfish Festival at Mors - each year in June
Welcome to The Shellfish Festival on the island Mors, which takes place the first weekend in June.
The Shellfish Festival in Nykøbing Mors
The Shellfish Festival is the first weekend in June and is an unique taste experience, a feast for the eyes with new impressions, music to your ears and a maritime experiences for both children and adults. The Shellfish Festival is all the best Limfjord has to offers in terms of food in one place. 
Over this weekend, you can for instance experience Shellfish cinema, food market with local products, Limfjord platter  with is a cornucopia of shellfish from the Limfjord, live music on the stage, experiences for children and much more.


On Saturday evening the Shellfish Festival invites you inside the big marquee, where a huge Seafood Buffet will be served for about 750 guests from near and far.
The attraction is extraordinary gourmet experiences – a Mecca of delicious dishes with seafood from the fjord and sea.


Join the Shellfish Festival
You can book your ticket and read more about the Shellfish Festival here: Shellfish Festival in Nykøbing Mors (In Danish)
Travel sustainably in North Jutland
Getting around North Jutland with public transport is effortless. Plan you trip with bus, train or 'Plustur' on rejseplanen.dk