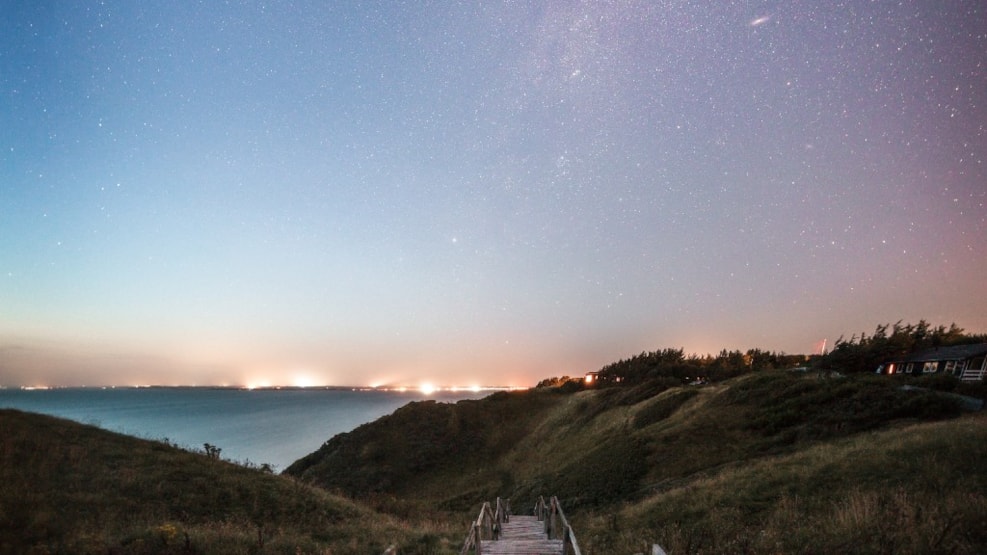 Dark Sky - Toftum Bjerge
Take on a dark-sky hike in beautiful surrounding close to the city of Struer! It is not a secret that our senses intensify when it's dark. Here you will hear creek running through the hills, waves hitting the shore and wind whispering in the grass. Turn the lights off, lie down on a hilltop and notice how many fascinating elements our nature is really filled with.
Well-adapted for experiencing: Moonset, Milky Way, Meteor showers, Noctilucent Clouds

Facilities: Tables, benches

Parking: Toftum Bjerge parking in the end of Solbjergvej
Dark Sky in the Limfjord's country will take you on a time travel through billions of stars, offer an ease for your souls and non the less create lots of unforgettable memories of the fascinating night sky phenomena.
You can read more about Dark Sky in Destination Limfjorden here: Dark Sky in Destination Limfjorden
Being outside at night
It is our common responsibility to respect natural environment, especially as many animal species are active during night time. It is important to switch the light off, when there is no need for using it – doing this will help you to avoid affecting your night vision and others in the area. Remember not to leave anything but your footprints out in the nature.
Get more inspiration here:
Destination Limfjorden © 2023